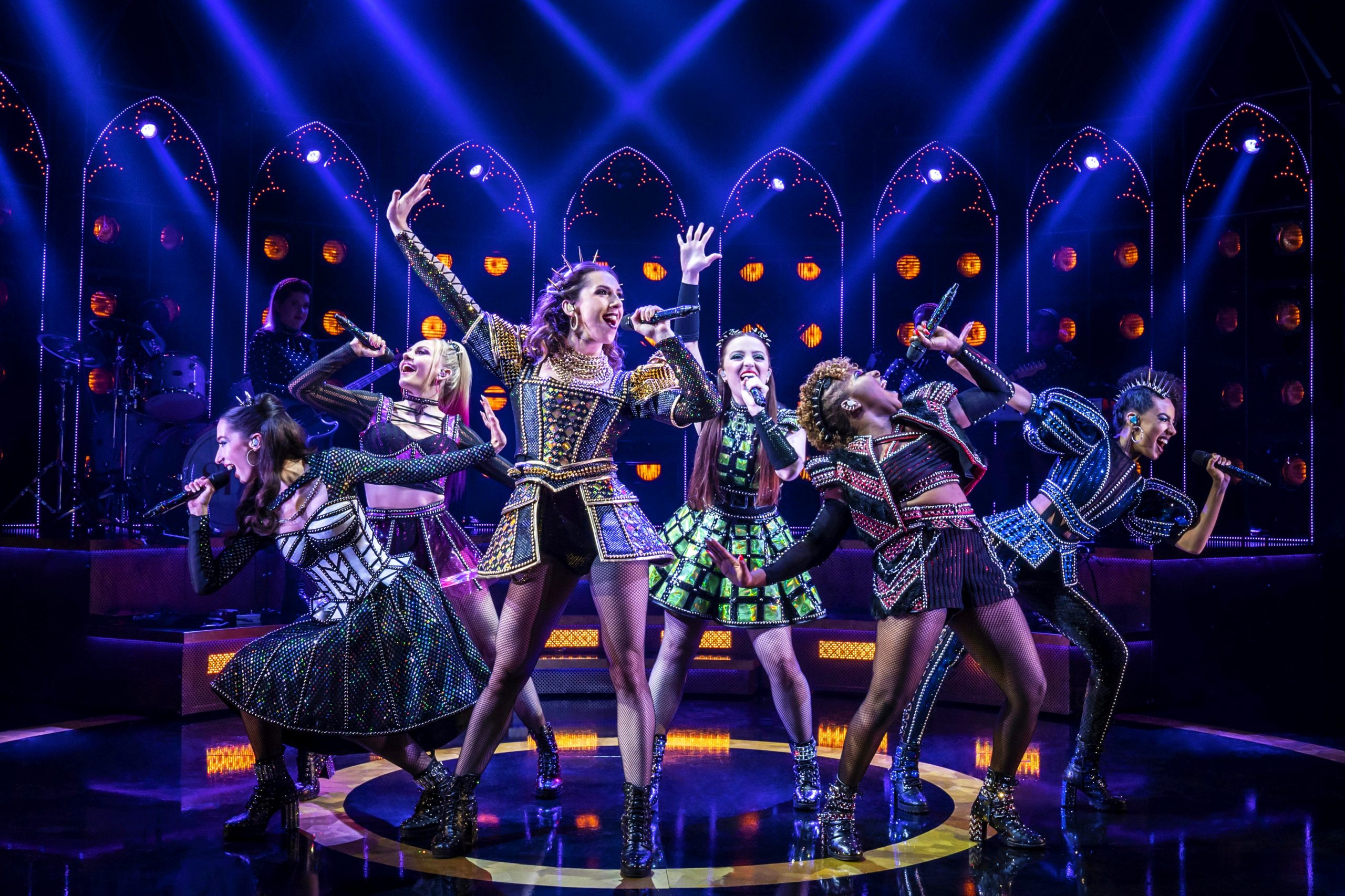 ⭐️⭐️⭐️⭐️⭐️
History is written by the victors – but for one night only it's Herstory at Edinburgh's Festival Theatre as Six returns to Auld Reekie.
Most of us knew them before only as Divorced, Beheaded, Died, Divorced, Beheaded, Survived… but Six hands the Queens the mic in an empowering 80 minutes of sheer joy.
Flipping our perceptions of Henry VIII's six wives through the medium of a pumped-up rocking score and killer vocals, these once voiceless wives of the King are refreshed as Queens of their own right.
Six is an evening like no other, where the smarts and wit of Horrible Histories meet the vocal heights of Little Mix. Who ever thought history could be so entertaining?
Emma Bailey's near bare concert stage comes to life with Tim Deiling's stunning light show.
The sequin-donned Queens dazzle as they each take centre stage to tell their own story. The retelling ditches centuries-old misogyny and lays bare the pretty harrowing existence of each of Henry's wives.
Each Queen has her moment in the spotlight with a banging tune from Toby Marlow and Lucy Moss.
Jaina Brock-Patel makes her professional debut on this tour but it would be impossible to tell based on her assured Katherine Howard.
Jennifer Caldwell's Anne Boleyn is a fabulous Northern Powerhouse with a cheeky glint in her eye. Her 'Don't Lose Ur Head' is an anthem for every girl who rebelled. It's just a delight.
Chlöe Hart rules the roost as Catherine of Aragon – she's mesmerising to watch both up front and backing her fellow Queens.
Every cog works in tandem with the other to make this show a real feast for the eyes and ears. Behind the Six Queens are the Ladies in Waiting, the four-strong band led by Jenny Deacon who blast the tunes with feminist gusto.
Six is a satisfyingly slick show. Every step of Carrie-Anne Ingrouille's choreography is delivered meaningfully, beautifully setting the story out in front of us.
It pulls no punches in its nods to #MeToo and blatant misogyny in history, but always does so without turning the stage into a pulpit. But at its heart is a frustratingly catchy soundtrack and an excellent cast to tell the genius story.
Girl Power is back – and it's rewriting the history books. The revolution will be staged – and sung – and it'll be an absolute joy to behold. Don't miss it.
Six The Musical at Festival Theatre, Edinburgh until Saturday 26th March 2022, then touring
Photo Credit: Johan Persson (2019 Cast)