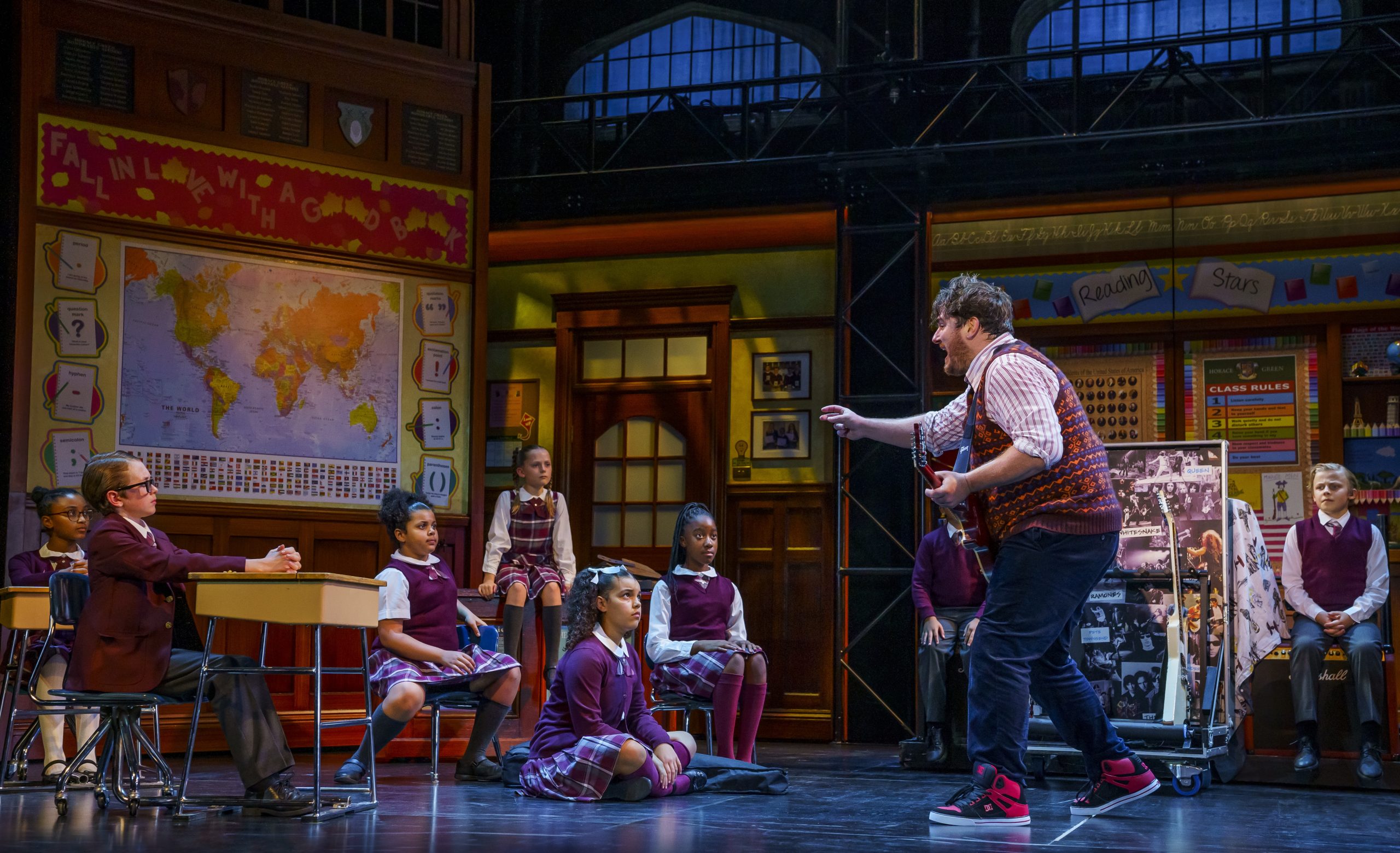 ⭐️⭐️⭐️⭐️
We could all do with a pick me up in these troubling times. School of Rock the Musical matches the laughs of the hit movie with the incredible talent of a teen ensemble that is worthy of cranking those speakers all the way up!
Dreaming of life in the spotlight, Dewey Finn (Jake Sharp) needs to find a way to pay his debts to best friend, teacher Ned Schneebly (Matthew Roland). A job offer for Ned ends up in Dewey's hands and a plan is hatched – pose as his friend to settle his debts.
In the most of unlikely circumstances – in a top class elementary school that doesn't stray from the rules – Dewey coaxes his cautious class out of their shell to reveal the rock gods that lie within.
But Dewey isn't just content doing that – his eyes are set on Rebecca Lock's hilariously stuck up, rule-enforcing Principal Mullins, whose own rock transformation – aided by a Stevie Nicks classic – really is a joy to watch.
School of Rock puts the Beat in Beethoven – it's a joyous celebration of the immense talent of the kids on stage, which really shines, even through a slightly too long first Act.
Jake Sharp leads the piece as Dewey with an energetic charge that glues the whole show together. He never lets up and engages with the youth cast with a child like spark making us all feel like a teen again.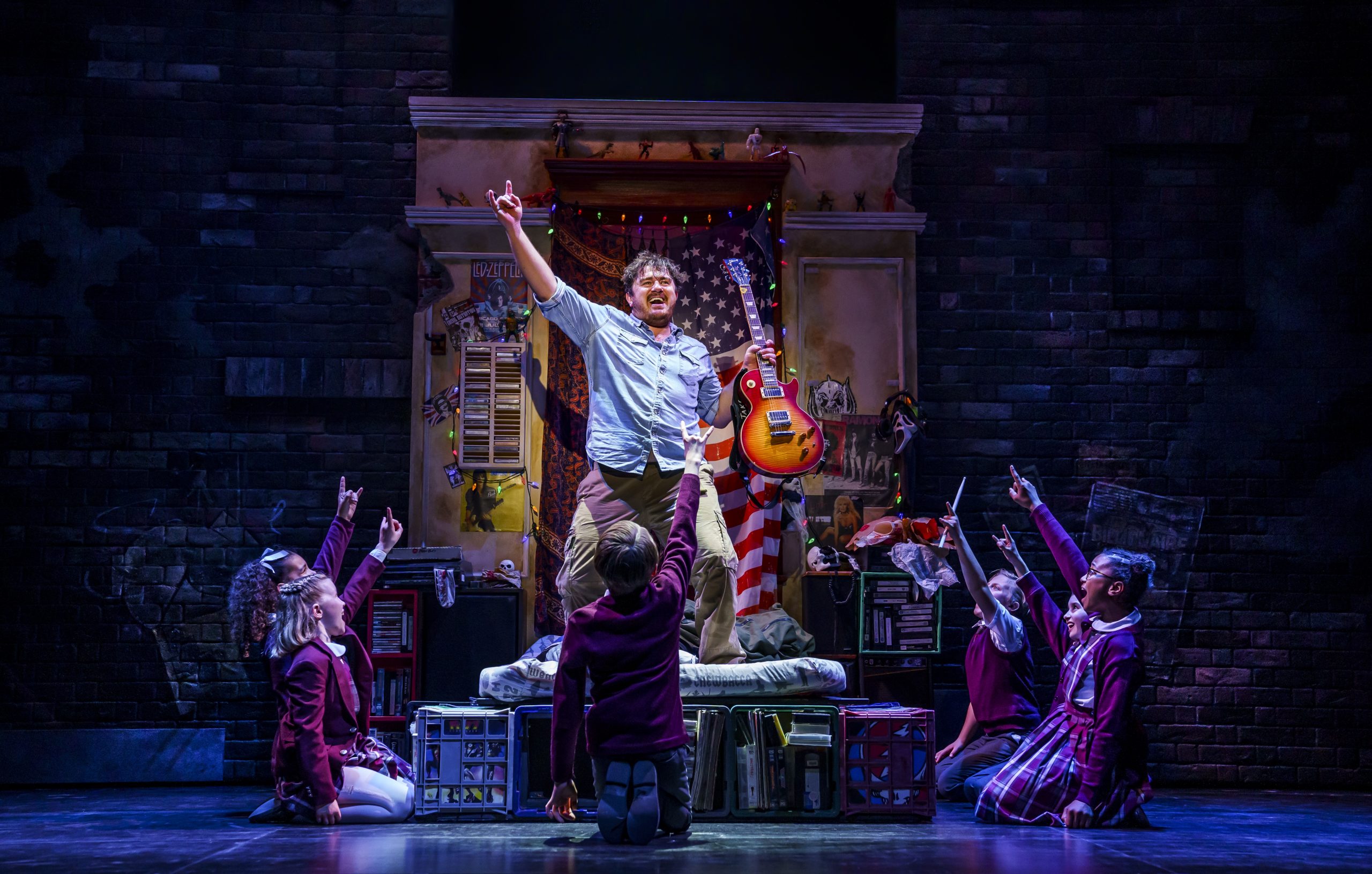 With the full-throttle drums of Freddy (Eva McGrath), the heaven sent chords of keyboards from Lawrence (Oliver Forde), the groovy bass line of Katie (Effie Lennon Ballard) and the slick licks of Zack's (Joseph Sheppard) guitar this band is destined to entertain.
The command of each player's own instrument is extraordinary – playing every bit as accomplished as their counterparts in the orchestra pit, with the added task of acting their way through the show as well.
Andrew Lloyd Webber's rocking score is played entirely live by these incredible teens. There are heavy bangers like "You're In The Band" and "Stick It To The Man" – and even a charmingly sweet ditty that sounds far more like the usual Lloyd Webber fare, "If Only You Would Listen".
This full-throttle musical does take a little time to warm up in its first Act, but by Act II it's a full blown hilarious rock fest that will have you on your feet and cheering for more.
Once it finds its balance, there is nothing stopping this wrecking ball of chaos raising the roof of the Theatre Royal in Glasgow.
Each one of the stellar youth cast deserves a review of their own – and they would all be five stars – but it's only right to give a special mention to the hilarious Billy (Alfie Morwood), who takes on the role of Wardrobe for the band in a flamboyant caricature that really sends the laughs.
Similarly, band manager Summer (Florence Moluluo) is utterly charming with a stellar performance both vocally and in becoming the teacher's pet that we can't help but love.
While there might be some sound issues to be polished as the show settles into the venue, nothing can detract from the talent on stage and the scale of this extraordinary production.
School of Rock is an epic feel-good show that isn't to be missed. Get your tickets before the bell rings and the tour moves on!
School of Rock the Musical at Theatre Royal, Glasgow until 12th March 2022