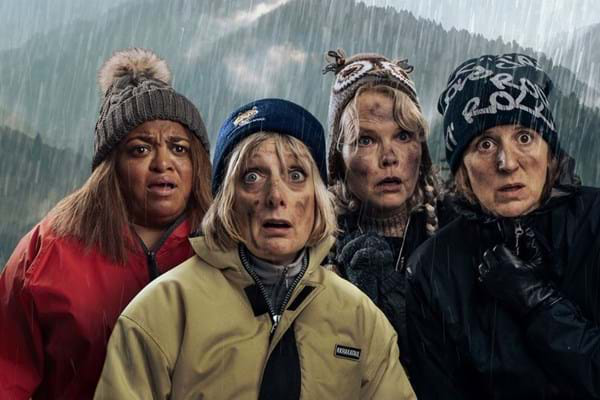 ⭐️⭐️
Tim Firth's revived comedy might have moments of promise but fails to deliver the laughs it so desperately needs to thrive.
They say that hell is other people. When Sheila and her three colleagues – Denise, Julie and Fay – get lost after playing clever while orienteering in the Lake District, they quickly turn on each other as their isolation from reality sinks in.
Liz Cooke has created a stunning barren landscape on which the drama is set. It's lurking shadows and hidden trees embellish the tale and John Nicholls' soundscape doesn't divert attention from the four ladies on stage.
Tim Firth's gender-swapped reimagining of his own Neville's Island has huge potential.
There are hints of Alan Bennet in the assembled characters but none of the charm. By far the most likeable of the four is sharp-tongued Denise (Abigail Thaw), who we're probably not supposed to like anyway.
It may be that we're all weary of isolation ourselves but the story of Sheila's Island lands as rather a bleak one.
Some twists and turns are unexpected but there isn't a eureka moment where it all pays off in the end. Sheila's Island feels like lots of little bits stuck together.
Unlike Firth's utterly charming Calendar Girls, Sheila's Island doesn't have the heart to warm nor the pace to leave us wanting more. It's a mellow affair – too blunt to be cutting and too dark to be farcical.
There are some great moments of farce and sharp dialogue – particularly from Denise (Abigail Thaw) and Julie (Tracy Collier) respectively.
And while it wasn't Covid that struck the cast in Edinburgh this week, injury prevented Rina Fantina from appearing as Julie. But the show must go on – and Tracy Collier does a stellar job of stepping into one of the four roles she understudies without breaking a sweat.
Sheila's Island at King's Theatre, Edinburgh until Saturday 5th March 2022