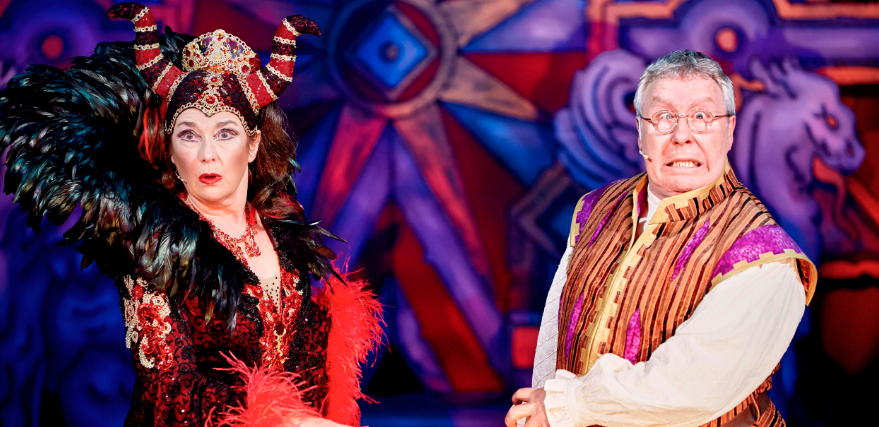 ⭐️⭐️+1/2
Writer and Director: Eric Potts
Choreographer: Ian West
The Kings pantomime is a Glasgow institution. However, this year, the classic tale of Snow White and the Seven Dwarfs fails to live up to the high standards the theatre is renowned for.
The main issue lies in Eric Potts' script. Cultural references are dated and unfunny; mentions of Susan Boyle appeal to the press night audience, with Boyle herself present, but are otherwise old news. Celebrity Big Brother should also be left in the past.
Clearly the cast has been given some license to meddle in order to make the production a little more friendly, but a dull script can only be lightened so much. In terms of humour and entertainment, it is the total opposite of what a panto should be.
There's no razor-sharp Glasgow humour – which should be part and parcel for a show of this nature. There are moments that are clearly shoehorned in out of nowhere to try and inject some colour into the lifeless prose the audience must endure. There is no real slapstick, few big musical numbers and, sinfully, no "Oh Yes It Is" moment.
The stage and set are equally unappealing. There is little life in the flats; the distinct lack of vibrancy is disappointing. There is nothing to jump out at the audience, but rather a bland set draped in a lingering smoke. Effects are few and far between compared to most other festive offerings across Scotland and the lack of magical feel to the production is disappointing.
The joyless surroundings are difficult for cast to work with. With a number of famous faces, the expectations to deliver are high, but from the outset, weaknesses are clear to see. Juliet Cadzow (Queen Morgiana) does not capture the audience enough to entice the much-needed boos from the beginning.
Gregor Fisher shows moments of promise, but seems to dial his performance in for the most part and there is little energy between these two. Des Clarke is the hardest working of the group, trying all he can to squeeze a laugh out of the largely unresponsive audience. His ad-libs are enjoyable, but he appears to have difficulty in keeping this energy up.
Jenny Hayley-Douglas performs well in the title rôle, but Allan Jay as the Prince leaves much to be desired. And while the seven dwarfs may fit the bill, their acting is highly questionable. Any momentum built up in the show stalls as these seven fight to remember their lines.
As a night at the theatre, Snow White and the Seven Dwarfs will provide an audience with some entertainment, as it's hard to get a panto totally wrong. The best that can be said is that a trip to this show is better than a night in front of the TV, but not much more.
Runs until 10 January 2016