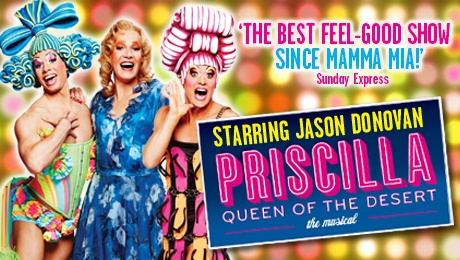 ⭐️⭐️⭐️1/2
Book: Stephan Elliot &Allan Scott
Director: Simon Phillips
While the rest of the country's theatres are filled with cheers, boos and the occasional "It's behind you!", The Playhouse in Edinburgh plays host to a flock of drag queens who might very well be confused for a panto cast. As Priscilla, Queen of the Desert rolls into Edinburgh over the festive season, it is a production worth considering as an alternative festive good night out.
Boasting Jason Donovan as lead, the hype for this show is palpable. Most will be familiar with the broad idea of the show. The show is little more than a jukebox musical, but it redeems itself with an array of visually impressive set-pieces. For a fun night out, Priscilla is perfect – for anything else, it falls short.
Jason Donovan, in the rôle of Tick, has the audience on side, his pulling power evident, although his performance feels rather more phoned in than fully committed. A little more enthusiasm would have worked wonders for the pace and energy of this show.
Adam Bailey and Simon Green complete the central trio and are joyful to watch. They clearly love their craft, and this is clear from their performances. There is little for them to work within the script, but they play their respective parts well.
Karen Dunbar's bit part as Shirley is a triumph. Similarly, Gavin Mitchell makes an appearance for this Edinburgh leg of the tour as Bob and performs the part incredibly well. A solid accent throughout and a character that has a little dimension in this otherwise 2D piece works well for Mitchell. The rest of the company keep the energy levels up throughout and bring a much-needed vibrancy to the musical numbers.
The real winning moments are the songs, performed in ridiculously over the top costumes with no real purpose in the storyline, the music is the reason this show is loved.
Everyone is guaranteed to know at least a handful of them and the audience respond accordingly to the classic hits. The La Traviata scene, most memorable from the motion picture, fails to deliver any impact and is done in such a way that those who have not seen the film could think this was just a random time filler.
The overall result is enjoyable, although it does not live up to the hype attached to the show. Expect the songs to stick in your head for days but not much more.
Runs until 10 January 2016