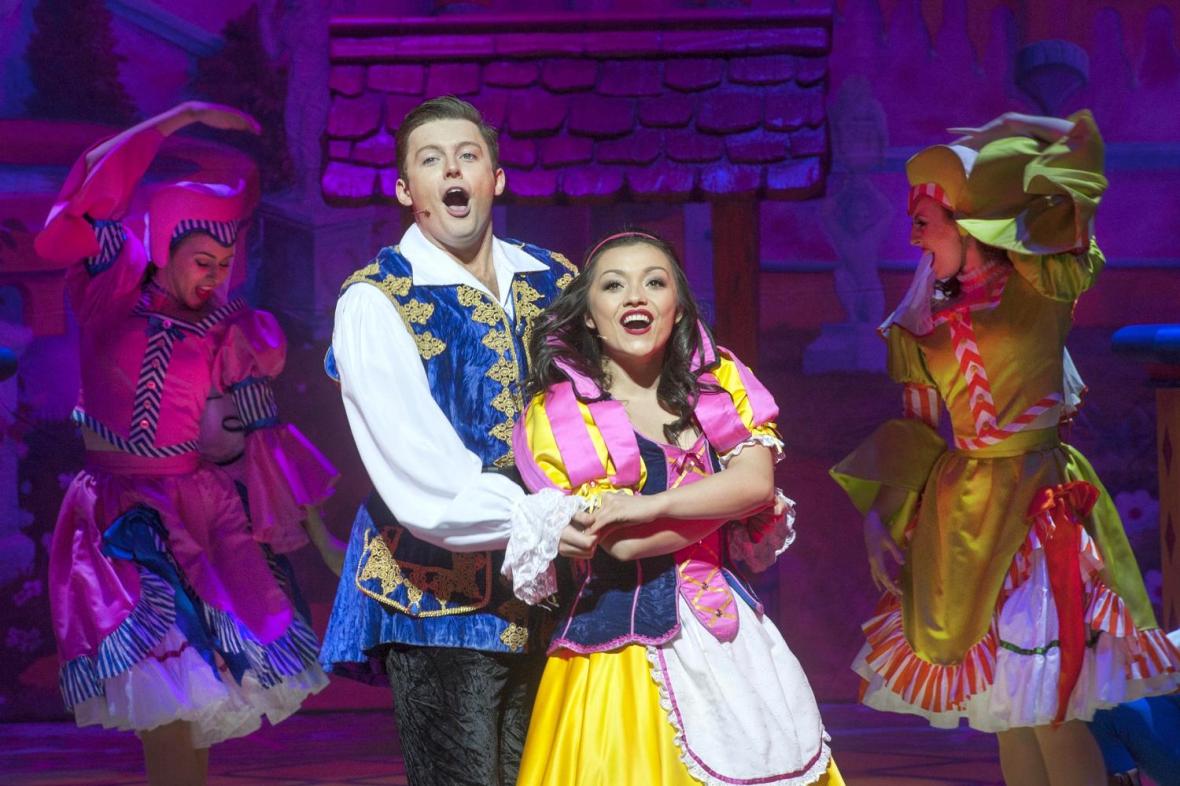 ⭐️⭐️⭐️⭐️⭐️
Writers: Michael Harrison, Allan Stewart, Alan McHugh &Beth Eden
Choreographer: Stillie Dee
Director: Ed Curtis
Last performed at The King's Theatre in 2002, Snow White and the Seven Dwarfs returns triumphantly for this festive season. The well-known Grimm Brothers tale of the girl banished to the woods by her evil step-mother comes to life with a cast of familiar faces for a night of fun and frolics.
The story may be familiar, but here we get a tale tailored for an Edinburgh audience. The script delivers completely, crammed full of jokes for young and old alike. Running through the production, the basic but focused plot fires along at 100 miles an hour, keeping the momentum up throughout.
The inimitable trio of Allan Stewart (Nanny May), Andy Gray (Hector) and Grant Stott (The Wicked Queen) head the cast once again and it is no surprise they have been welcomed back to the King's with open arms.
Stewart and Gray combine to make the perfect dame and dafty double act while Stott relishes in his evil character as a strangely enjoyable baddie. Also making a welcome return to the King's is Greg Barrowman as the Prince. Fast becoming a panto stalwart of his own right, he provides all the energy and vocals of a rock solid principal.
The music is perfectly chosen to suit the mixed audience and the adapted lyrics provide laughs that are relentless. Each song is a joy instead of an endurance. The incredible array of costumes for both principals and chorus is a real feast for the eyes.
Stewart, of course, wins hands down in the costume department with his famous legs making a suitably impressive appearance as the curtain rises for Act II. But special mention must also go to the dwarfs, whose costumes are truly ingenious – their debut sends gasps throughout the auditorium and the costumes as a whole blend beautifully with the vibrant set.
The set, costumes and lights all dazzle the audience from start to finish. The whole production is technically very advanced and incredibly well executed. The effects are never overplayed, some truly amazing sights take away the breath of children and adults alike, and quite simply have to be seen – or rather experienced – to be truly appreciated.
The King's Theatre strive to give panto-goers a five-star show – they are certainly doing something right because this panto is a certified gold star winner.
Runs until 17 January 2016 | Image: Douglas Robertson