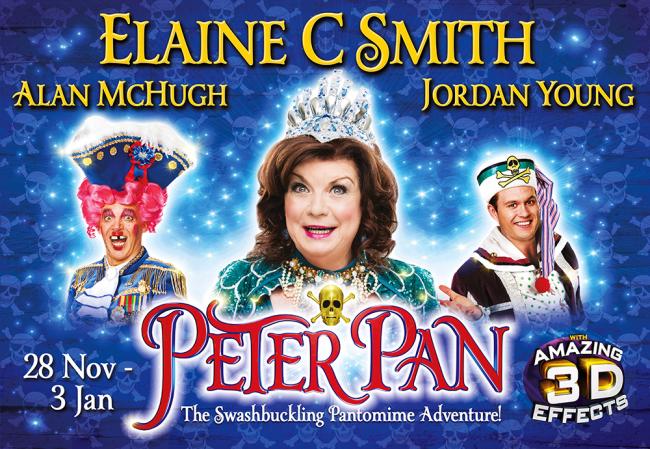 ⭐️⭐️⭐️⭐️
Someone's flying high above the roofs of Aberdeen this Christmas as Peter Pan arrives to sprinkle some magic fairy dust over the boys and girls who come to pay him a visit, in a swashbuckling adventure filled with fun for all the family.
Peter, the boy who never grew up, arrives in the house of the Darling's to whisk Wendy and her brothers away to the magical world of Neverland. There we meet Dame Maggie, Smee and The Magical Mermaid, who join the adventure to take down the evil pirate Hook and free the Lost Children.
This pantomime is full of glitz and glamour – costumes dazzle against the bright lights, Peter and his friends soar high into the sky and pyrotechnics bring the magic to life and the array of tech used in the show is impressive. The use of 3D is effective and some 'surprises' may befall less lucky members of the audience.
McHugh's script is perfectly tailored to the Aberdeen audience; local references are jam-packed in and the words of chart hits are changed to fit the storyline. Fishy puns are never far away and well plaice-d(!) to keep humour in the narrative.
The undisputed star of the show is Elaine C. Smith as The Magic Mermaid. A clear favourite with His Majesty's crowd, her vocals bring real life to the score and her sharp wit is utilised well. With Aberdeen audiences, laughs come a lot harder than other Scottish panto crowds, but Smith shows her professionalism and the chuckles come effortlessly.
She is ably assisted by her right-hand men, Dame Maggie (Alan McHugh) and Smee (Jordan Young). These two add a slice of daft to Smith's sass, with their take on The 12 Days of Christmas a complete gas. Scott Fletcher reprises his rôle as Peter after a run in Glasgow last year and handles the rôle with ease.
The show is jumbled in places yet still manages to keep the younger audience members interested. The only other issue is sound; some effects are a little too loud for the target audience.
It is also a shame to find much of the song lyrics, often cleverly changed, lost under the amplification of the band. Although it is wonderful to hear a live orchestra, it does diminish the efforts of those performing. However, the eagle-eared should not miss too much.
Peter Pan is a classic tale – and this version is an all-singing, all-dancing festive adventure – certainly one to add to the Christmas list.
Runs until 3 January 2016 | Image: Contributed