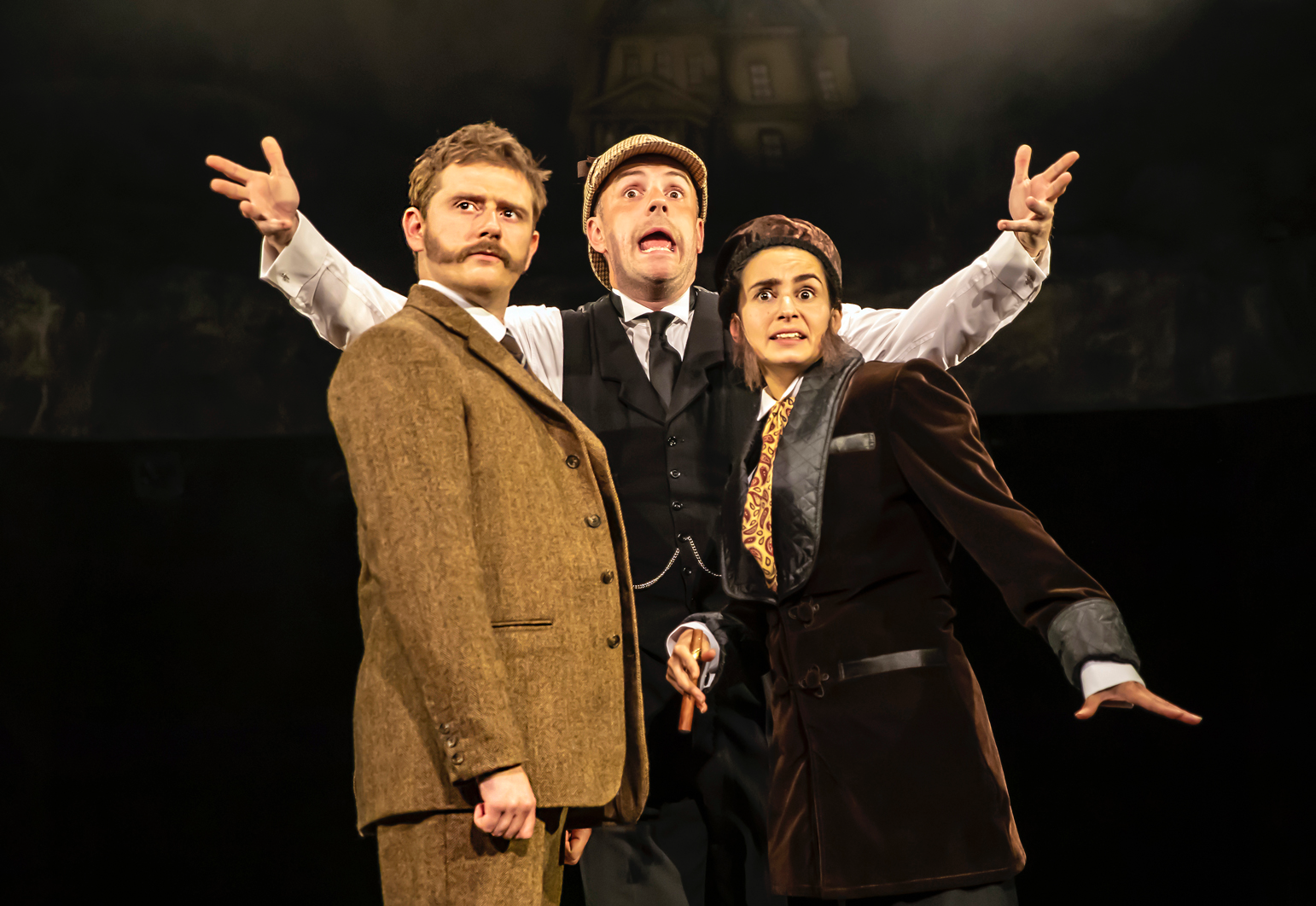 ⭐️⭐️⭐️
Original Theatre inject a hearty dose of silliness to this deconstructed version of Arthur Conan Doyle's classic Sherlock Holmes adventure.
A three-strong cast undertake a mammoth list of roles in this tale, with David Woodhead's elaborate costumes thrown around the nimble trio of actors.
Sherlock Holmes (Jake Ferretti) and Dr Watson (Niall Ransome) are called to investigate the supernatural goings on at the Moors in Devon. They quickly realise that the heir to the Baskerville fortune, Sir Henry (Serena Manteghi) is in grave danger as someone has their eyes on the family fortune…
The programme note states that the writers, Steven Canny and John Nicolson, "didn't want to send the story up [or] write a spoof" – but that's exactly how the production feels.
It's a light-hearted swipe at the shows that do take themselves a bit too seriously – and takes a rather wickedly positive view to things going a bit wrong. The Play That Goes Wrong meets Sherlock Holmes is an interesting mix that's sure to bring out the laughs.
The whole piece moves a little slowly, not quite picking up the momentum or suspense that Conan Doyle's original enjoys. The laughs could come at double the rate in half the time if the production has been condensed into a single Act – and it would probably be well suited to its Edinburgh Fringe-style put-togetherness.
This farcical take on the mystery novel is full of laughs – from endless silliness as the three actors switch between countless characters to some devilishly funny physical comedy.
David Woodhead – not content with designing some excellent costumes – also put his mind to a stunning set, dominated by a moon-enveloped Manor House.
It's undeniable that a huge amount of talent has come together to make Hound of the Baskervilles happen.
This mystery might not have you on the edge Rob your seat, but it'll definitely put a smile on your face.
Hound of the Baskervilles at Perth Theatre until Saturday 19th February 2022, then touring
Image Credit: Pamela Raith