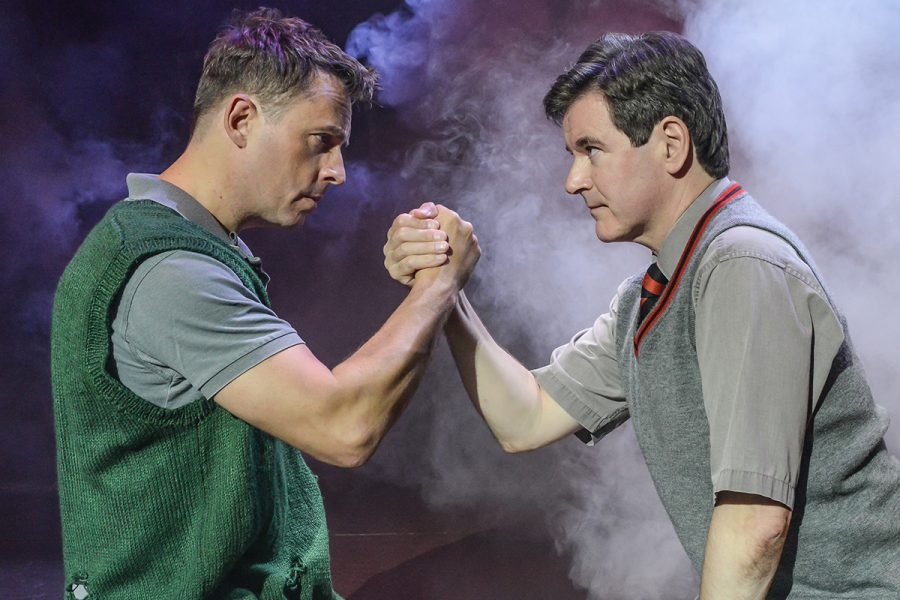 ⭐️⭐️⭐️
Willy Russell's timeless musical returns to Glasgow this October. While it doesn't live up to recent tours of the production, it's impossible not to be moved by the stirring story and unforgettable score.
Hard-pressed single mother Mrs Johnstone (Amy Robbins) finds out she's expecting twins. She reluctantly gives up one of her children to her employer, the well-to-do Mrs Lyons (Paula Tappenden). As the twins grow up, their paths cross in a tragic tale of friendship, love and the class that divides them.
Arguably, Blood Brothers is a musical for modern times – it's a stark reminder of how little has changed since the play's setting in the 1960s, and how much things should.
The idea is simple – it's a presentation of nature versus nurture – and Russell's wit and sharp observations have stood the test of time.
Amy Robbins stands in for former New Seeker Lyn Paul, who was on her final tour in the role, due to family illness. Robbins' deep register is suited for ballads like 'Easy Terms' but doesn't quite pack the punch for upbeat 'Bright New Day'.
Alex Patmore's Mickey matures in Act II, but doesn't make the most of the character as a youngster. The 'Nearly Eight' monologue is a gift in building a rapport with the audience but it's rushed over.
Joel Benedict's Eddie is charming. He doesn't reach the score's ambition in songs like 'I'm Not Saying A Word' but does get the laughs with his sheltered well-to-do Edward.
Blood Brothers stalwarts Tim Churchill and Danny Taylor inject some welcome energy into the ensemble scenes. It's hard not to consign the show to muscle memory after years of touring, but they continue to keep their performances fresh and exciting.
The show as a whole never quite manages to get into the rhythm it's audience crave, but it's impossible not to be drawn into the emotional turmoil of its closing scenes.
The final blast – 'Tell Me It's Not True' – is the catalyst behind the standing ovation musical and it's not hard to see why.
Blood Brothers at King's Theatre, Glasgow until 9th October, then Edinburgh Playhouse until 16th October