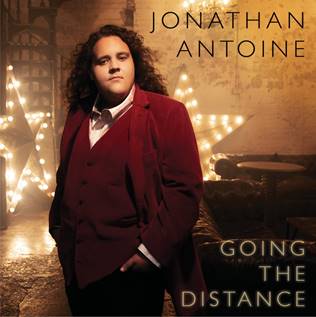 ⭐️⭐️⭐️⭐️⭐️
The unmistakable voice of Jonathan Antoine first found fame with the public through an unforgettable audition on Britain's Got Talent. 
Of course, this was only the first chapter in the story for this young tenor. Now on his fifth solo studio album, Antoine's latest album Going The Distance aims to take the listener on a semi-autobiographical journey with him through the carefully-selected tracks.
In a stunningly orchestrated album, Antoine delivers an eclectic mix of standards and more contemporary fare, breezing from Elton John's 'Can You Feel The Love Tonight' to Puccini's show-stopping 'Nessun Dorma' with staggering ease. 
While a tenor's take on some pop classics like John Denver's 'Country Roads' might not make total sense on paper, it's impossible not to be captured by the swelling orchestra and the story behind these tracks. The song is transformed from a jaunty toe-tapper to a ballad to rival The Impossible Dream. 
The opening track, 'Go the Distance' from Disney's Hercules, is a stunning rendition of the hit that not only rivals the original but exceeds it in heart and depth. The final chorus is a crescendo of percussion and choral song that truly breathes new life into the standard.
Finishing with an ovation-worthy 'Nessun Dorma', Antoine delights even the most discerning of critics. Making such a beloved song his own, it is a fitting bookend to the eclectic fare that ensures to deliver something for everyone.
As easy listening goes, it's hard to fault this album. 
Even more, at a time when purse strings are tight and audiences can't enjoy an evening out, the CD is completed with a DVD concert from Antoine's Canadian shows last year. While fans can't see him on stage during these uncertain times, this is certainly a welcome bonus.
Antoine wanted to take his audience on a journey – and what a journey it is. Going The Distance is a real treat and a vital tonic to the sadness of the world around us.
Going The Distance is released on Friday 5th June – more information here.