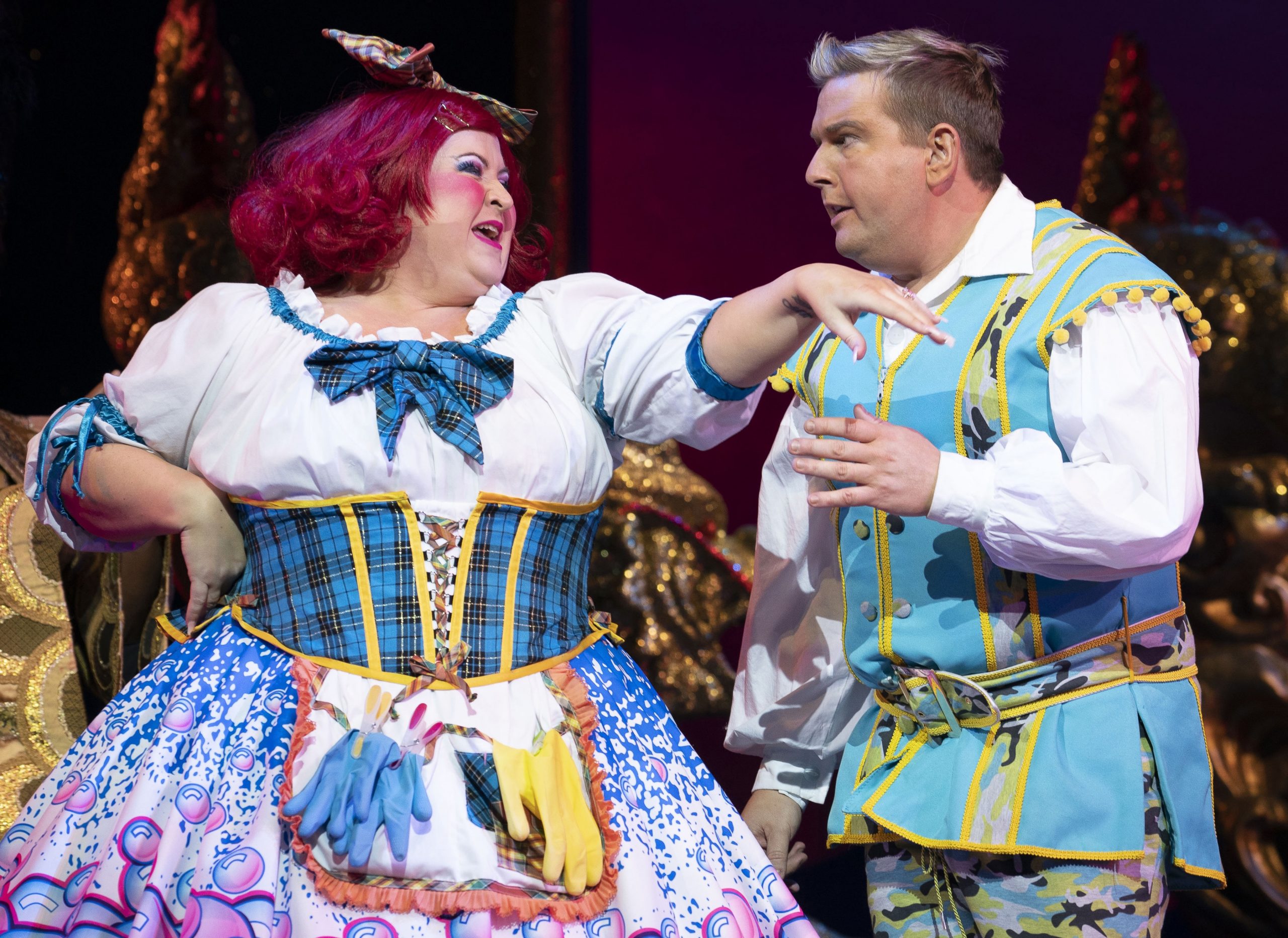 ⭐️⭐️⭐️⭐️⭐️
These days, signing up with the Army could take you to any manner of places. Dealing with floods, the vaccine rollout or on the banks of the River Clyde to save the day in pantoland.
Alan McHugh's script rarely misses in this fast-paced, laugh-a-minute take on the classic panto tale. It's an Aladdin for the present day, with traditions preserved but a fresh spring in its step.
We might have been starved of pantomime for two years but the magical cast at the Armadillo are back with a bang – and a flash, and a flourish!
Leah MacRae radiates as Widow Twankey – warmth beams out of her to thaw the wintered extremities of even the most icy reveller.
She's no stranger to pantomime but has found her home on the Armadillo stage. Complete with a belting voice to raise the roof, this Swankey Twankey shows you don't need to be a man in a frock to get the laughs in.
Enter Aladdin… eh, no, it's Garreh! Kicking the main character out of the pantomime is a bold move – and driving a tank while doing it is even tougher – but if anyone can pull it off it's Greg McHugh.
Our Garreh rules the roost on this stage – he's a ball of chaos running from one ridiculous escapade to the next. Every line is spun gold but it's his delivery that makes them glisten.
How a post-watershed comedy character anchors a panto is anyones guess, but McHugh holds the whole piece effortlessly. His facial expressions alone are worth your ticket money – so the hilarious skits are a bonus. And he can sing, too!
Dodging the tricks of evil Abanazer (Sanjeev Kohli), Aladdin – eh, we mean Gary – finds riches with the help of the Genie of the Lamp (eagle eared pantophiles might pick up Allan Stewart's dulcet tones) and the ever-graceful Spirit of the Ring, Sherazade (Rachel Flynn).
You might think we're missing a love story? Once again, panto traditions are turned on their head – it's Twankey who's on the hunt, and who better to deliver a happily ever after than the dashing Emperor (Brian James Leys) with a fine set of pipes.
His daughter is Jasmine (Blythe Jandoo), who is Aladdin's – sorry, Garreh's – best pal. The pathos doesn't hang around but it's their friendship saves the day.
Is the show perfect? It's frustratingly close, but the 'wow' moment is completely missed in the close of Act I – where the magic flying carpet doesn't actually fly at all… the second Act is too long and we're back to 3D glasses at the venue that pioneered the 3D panto in Scotland about a decade ago.
But, it would be a complete failure to do anything other than recognise this five star panto for what it is.
Aladdin is ridiculously good fun that will have you grinning from ear to ear from start to finish.
Bursting with local gags, stunning dance routines and irresistible songs, it really is a drop of magic sprinkles on your interval ice cream.
Aladdin at the SEC Armadillo, Glasgow until Wednesday 29th December 2021 https://www.sec.co.uk/events/detail/aladdin