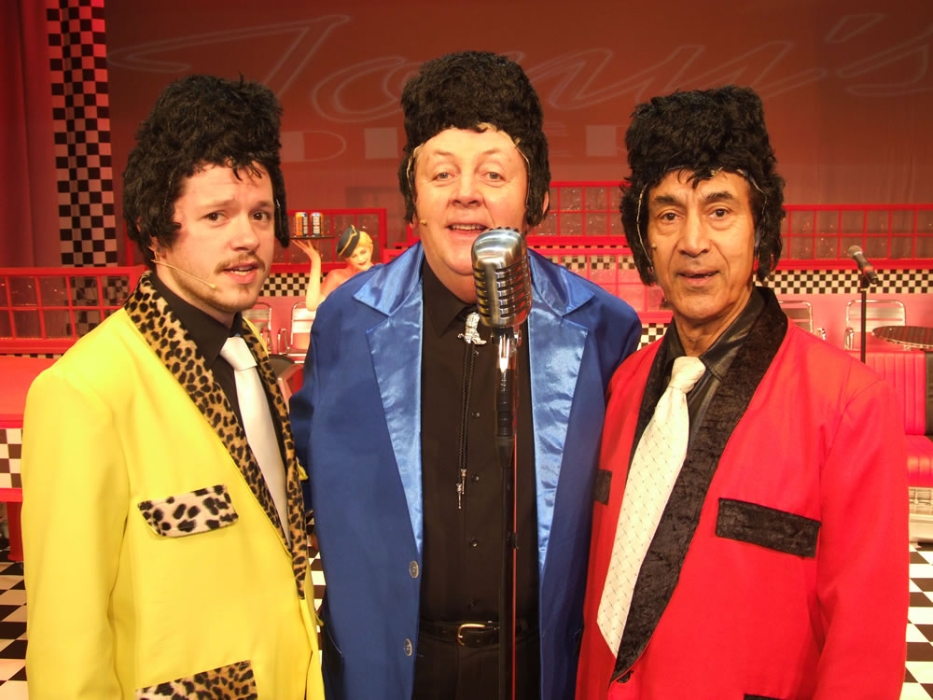 ⭐️⭐️⭐️⭐️
Writer and Director: Iain Gordon
The Teenage Years is the latest instalment in the Jukebox Memories series, devised and produced in-house by Glasgow's Pavilion Theatre. Boasting a host of familiar faces and enough hits to kick-start any jukebox into party mode, The Teenage Years is top of the charts for a fun night out.
Pavilion favorites Dean Park, Christian (Chris McClure), Chris Sougal and The Swingcats gel well together; by now, they are as much friends on stage as they are colleagues.
Dean Park leads the pack, with a sharp injection of Glasgow patter when it's called for, while also providing a solid set of lungs to belt out crowd favorites. He leaves little doubt as to why he has been in the business as long. The cast is complete with an ensemble of dancers to Twist the night away – a welcome addition to the experienced performers on the bill.
Set in an American diner, the stage is very well dressed. Tech is embraced, with a slideshow to follow the songs, a dazzling light show and a visually impressive set. There is a real sense of professionalism about this production that previous Jukebox Memories have failed to capture; this show is by far the best so far, and the end result is truly impressive.
The show revolves completely around the music; its lack of story line is much more a blessing than a curse, avoiding the potential for songs to be shoehorned in a clunky fashion. Act I is packed full of sing-a-long numbers that prove to be as much a hit with the Glasgow audience as they were on the Billboard Hot 100.
Not a second is lost as the cast command the attention of the crowd; even section changes are done without losing audience interest. Act II is a little less rehearsed, but no less enjoyable. A solid catalogue of timeless classics gives little opportunity for error.
It is a pity the production has such a limited run. It is guaranteed to have its audience on its feet crying out for more and leaving with a smile on their face.
The perfect mix of the Glasgow patter and some of the top hits from the 50s and 60s; The Teenage Years is a must see for any music fan.
Runs until Saturday 9 April 2016