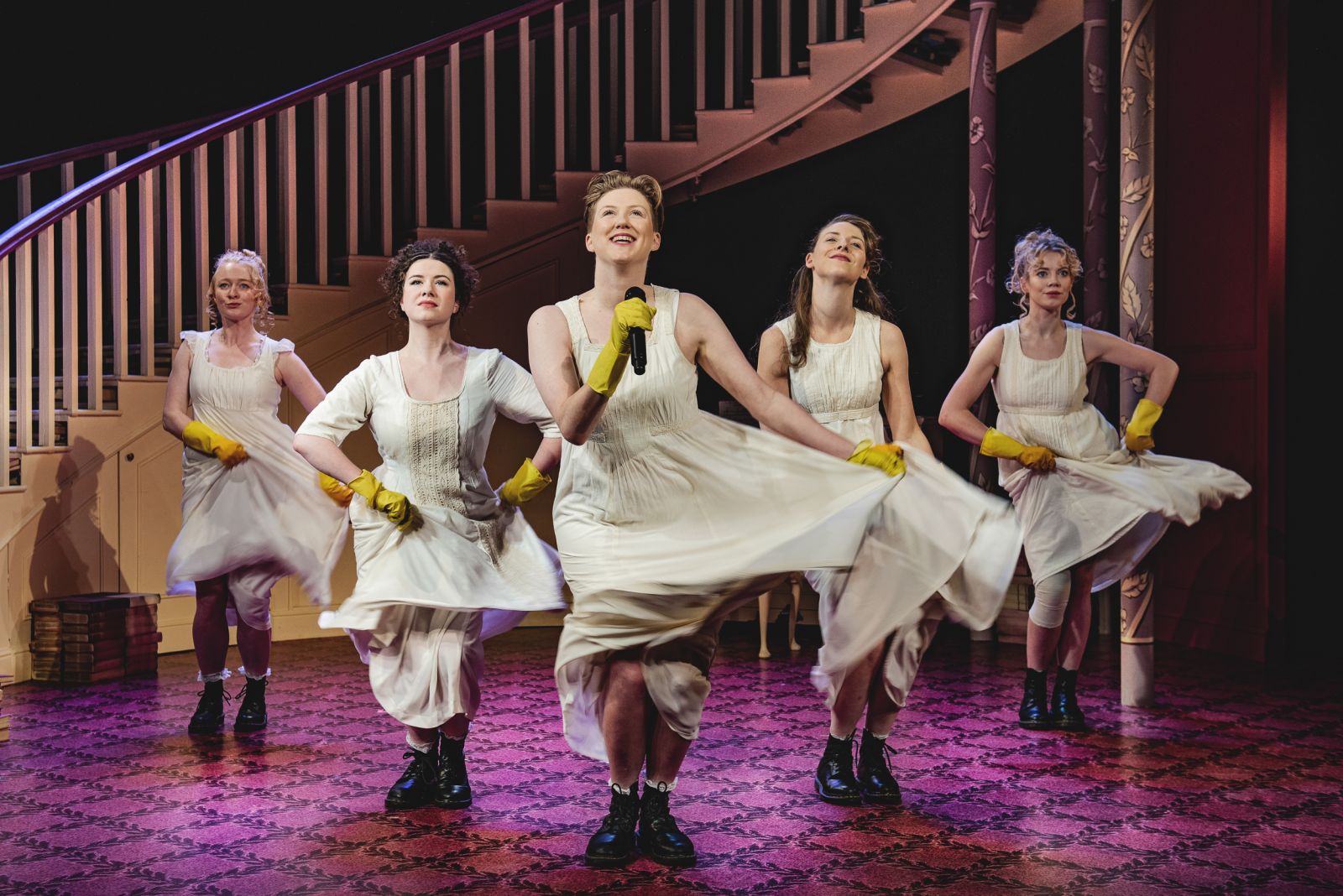 ⭐️⭐️⭐️⭐️
After whirlwind success resulting in a stint in London's West End, Isobel McArthur's riotous take on the Jane Austen classic makes its way back home to Glasgow in an evening guaranteed to have you in stitches.
Told from the perspective of the typically forgotten household waiting staff, this five-strong all-female cast inject a refreshing dose of girl power into Austen's dusty story. 
Forget the stale tales of Downton Abbey, Pride and Prejudice* *(sort of) gives Austen's aristocratic love story a gritty punch with hilarious results in this topsy-turvy reworking.
At its heart remains a relationship between Elizabeth Bennett and Fitzwilliam Darcy – both of whom have to overcome their initial detest for the other, as their respective circles spiral to manically destructive depths.
Along the way a host of larger-than-life caricatures burst from the five, unfurling a chaotic string of events… but will Elizabeth get her happily ever after?
McArthur isn't content with writing such a cutting adaptation; she also co-directs and stars in it, anchoring the madness effortlessly.
This production is heavy on its humour but does find itself bogged down in some of the minutiae of Austen's original work in the guts of Act II.
They say you can't have too much of a good thing but brevity would allow a faster-paced piece that doesn't drop its hard-earned momentum.
McArthur may well be firmly at the helm of this ship but she is careful to give each of the five space to work. Her Mrs Bennet is a foul-mouthed delight whose audience anticipates with bated breath what ridiculous thing she is preparing to deliver next. 
Coupled with McArthur's hilariously straight-talking Mr Darcy, her ability to entertain knows no bounds. It's particularly special to see a playwright performing their own material when their delivery is so enthralling.
Equally nimble is Hannah Jarrett-Scott – as comfortable as a scunnered scullery maid as she is playing landed gentry. Her no-nonsense approach builds a rapport with the Glasgow audience instantly and she never lets up.
Tori Burgess could tease out a laugh with the curl of her lip, such is her command of the slapstick.
As Elizabeth, Leah Jamieson shows that the principal girl doesn't just have to sit quietly waiting to be swept off her feet. 
Completing the five, Christina Gordon might just have the best character to play in Lady Catherine – and she milks it for all its worth. It's absolutely delightful. 
It's these women that make this show a winner but they are elevated to greater heights thanks to a technical operation that never misses a beat.
Pride & Prejudice has just the right amount of slapstick to portray a never-ending pandemonium. 
It's no wonder this show brings audiences to their feet every night. If this is the future of theatre in Scotland, we're in for one hell of a ride. 
Pride & Prejudice* (*sort of) at the King's Theatre, Glasgow until Saturday 12th November 2022, then touring