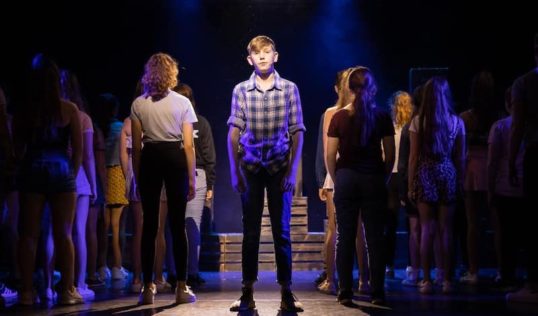 ⭐️⭐️⭐️⭐️⭐️
Truly excellent musical theatre performances are rarely found on an amateur stage, but Captivate Theatre brings 13 (The Musical) to the Gilded Balloon's Rose Theatre with the energy, focus and talent to rival the professionals.
The young cast is bursting with talent, tackling the musical performance element of the production with ease, but also delivering the more subtle humour in a way that many others would be unable to effectively pull off.
Quite how Captivate Theatre manages to distil the magic formula is impossible to determine, but the wealth of talent both offstage and on is palpable from the outset.
The scaled-back nature of the Edinburgh Fringe doesn't stop them from giving a knockout performance.
Thirteen-year-old Evan (Andrew Gilbert) is preparing for his bar mitzvah, and the production follows his move from New York City to a tiny town in Indiana at a time when growing up brings a whole lot of pressures.
The simple yet complex coming-of-age drama is delightfully packaged, complete with gritty issues, but also spreads humour liberally, resulting in a charming piece that can't fail to entertain.
Jason Robert Brown's inspired score is typical of his output, being able to charm and provoke at the same time. Upbeat numbers are glorious and the whole drama is underscored with care and attention.
The humour embedded within the musical is worth seeing alone, with the highlight of the tune "Terminal Illness", which has the audience in stitches – beautifully delivered by socially rejected Archie (Seumas Cross).
The cast is not shy of engaging directly with the audience when the latter is entering and exiting through the auditorium. This signature touch means viewers feel genuinely invested in the show.
Principals are assured and confident, with Anna Masting as Lucy giving a particularly brilliant stroppy cheerleader, and each of the ensemble playing their hyped-up stereotypes with delightful gusto.
It's difficult to fault this wonderfully packaged and engaging amateur musical. Dealing with some of the most difficult issues that teenagers have to face, and using teenagers themselves to tell the story, is a work of genius.
Under the direction of Louise Hunter, with musical supervision from Caitlin Morgan, this is a truly standout piece of musical theatre with a charming cast, making it an utter delight to watch.
As far as hidden gems go at the Edinburgh Fringe, this is most certainly one. The ability to genuinely move as well as entertain is far from easy – many other productions fail to achieve it.
The production is certain to be a firm favourite of anyone who watches it and the sure to solidify its place as a pick of the Fringe in years to come
13 (The Musical) at Gilded Balloon Rose Theatre until 11 August