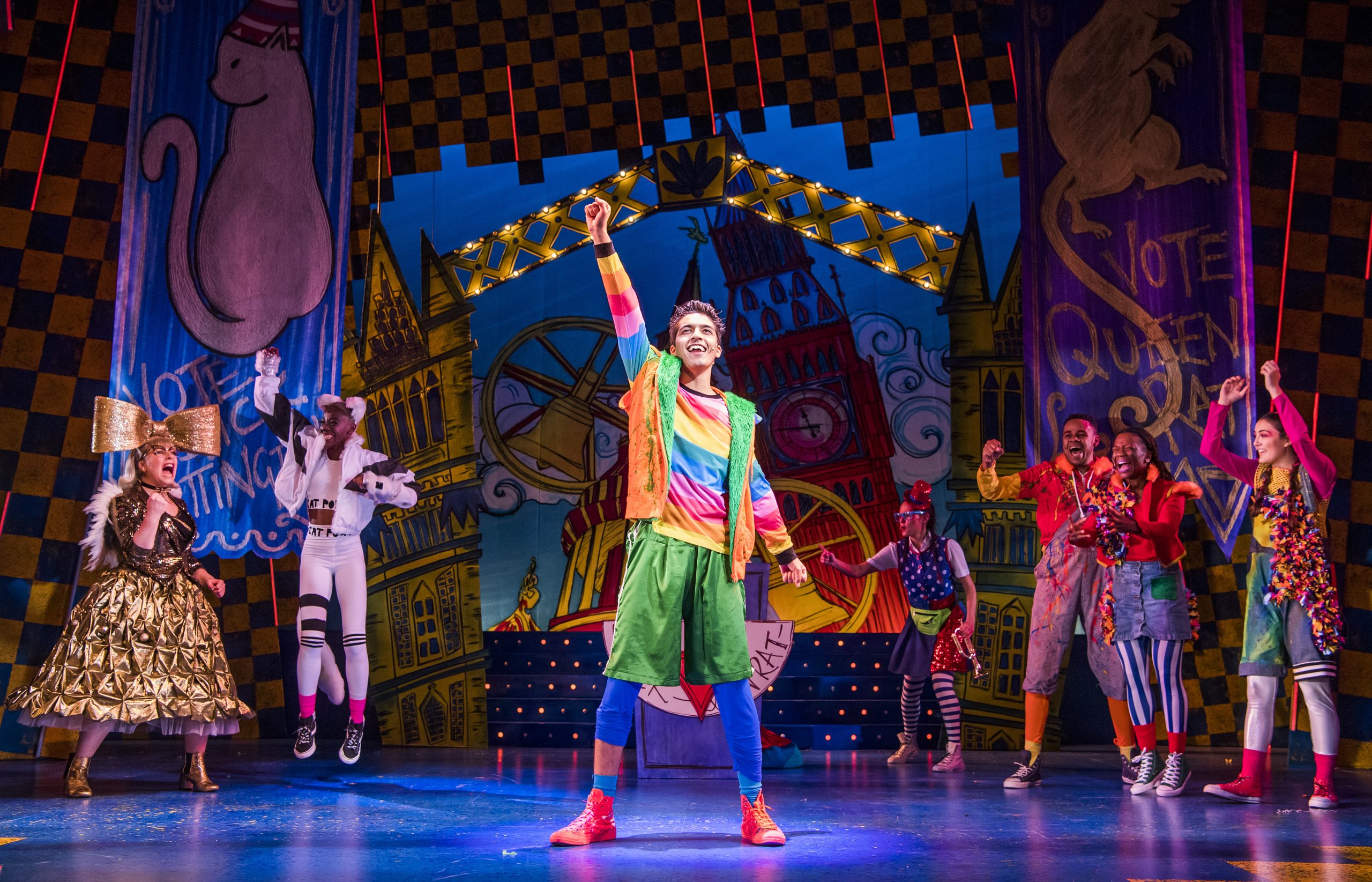 ⭐️⭐️⭐️⭐️
In a world that's altogether a bit gloomy, everyone could all use a bit of light-hearted family fun. As panto season kicks off this December, the Lyric Hammersmith offers a delightfully charming adventure certain to capture the imagination of audiences young and old.
Taking your seats, the distinct smell of theatrical fog and the swell of the Lyric's house band immediately start the magic sparkle and keep up the pace throughout. Big, brash musical numbers from the charts meet energetic, well-compiled dance routines. It's definitely a pantomime, but with a Hammersmith twist!
Rolling into London from the Welsh valleys, hero Dick Whittington (Luke Latchman) must save the city from evil Queen Rat (Sarah-Louise Young). With the help of Bow Belles (Jodie Jacobs), Sarah Fitzwarren (Carl Mullaney) and her daughter Alice (Hollie Edwin), their race to ensure Dick Whittington becomes Lord Mayor of London is a fast-paced, uplifting and hilarious show for all the family.
This panto is unashamed to put its own stamp on the traditional pantomime structure, twisting rap sections between dialogue. Bow Belles is as much a narrator as character of her own right, bringing an edgy feel to the well-known tale, and Kezia Joseph's seriously cool Tom Cat ensures that the beats are laid down for those who think they're too hip for panto.
Jude Christian and Cariad Lloyd's script is a schmoozy love letter to London, with laughs that play as well to visiting patrons as to Londoners themselves. Indeed, in a bizarre cameo that may appeal more to homesick Scots (like myself!) than the average Hammersmith audience, Scotland's First Minister even takes the time out for an extended appearance.
Though the humour often is a little too low-brow for the little ones to miss, it's near impossible to get a Dick joke by without the savvy titter of the pre-teens. Carl Mullaney's dame also ensure one lucky man isn't lucky for too long, as the look of love is cast out on a poor, unsuspecting audience member – but it's all part of the experience!
The sprightly young ensemble are all plucked locally for their first professional debut on the Lyric Stage. Standing out from the troupe is Amelia Gregorian – bursting with expression and energy, she presents a masterclass in how an ensemble can really enhance a production.
Packed to the rafters with modern, bouncy tunes that are performed with gusto to rival their West End, the production highlight comes in a reflective number where Bow Belles and Queen Rat remember their school days in a Pogues-featuring-Kirsty-McColl moment of festive-ness. This real belly-tickler has serious potential to be Hammersmith's Christmas Number 1.
Though less inventive, it would be unheard of for a 2018 pantomime to ignore The Greatest Showman's soundtrack and the parent-dementing "Baby Shark". Combine all of the above with a stonkingly bright set and costumes that rival the big company shows with ease, you've got yourself a winning formula.
It's been a decade since the Lyric first brought a panto to their local faithful. Following plucky young hero Dick Whittington, Londoners can expect a heartwarming story that is as funny as it is clever.
With all the bells – literally – and whistles on whilst enjoying its intimate setting, the Lyric have created a great night out for the family. Catch it whilst you can!
Dick Whittington runs at Lyric Hammersmith until 6 January, 2019