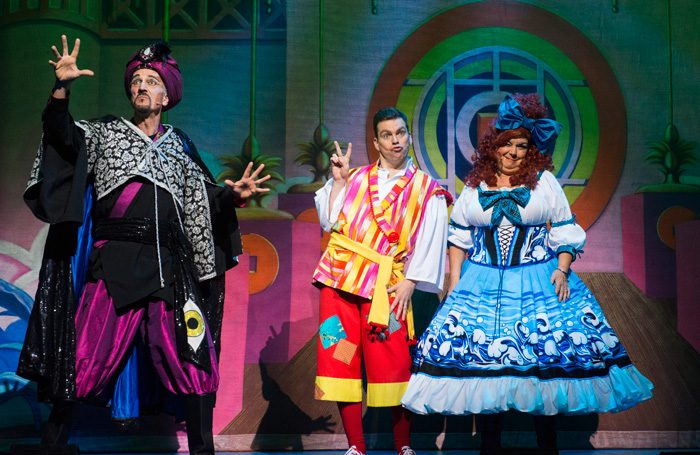 ⭐️⭐️⭐️⭐️
The story of peasant Aladdin and his magical quest to find riches and marry his true love is one we all know well. Although this year's King's show does lose its way initially, it brings the real magic of panto back to Glasgow in a way that only the King's Theatre can.
Alan McHugh's script is unusually muddled in Act I, though even when the plot gets a little slow we are kept laughing by the talent on stage. Fewer songs and a bit more slapstick wouldn't go a miss. But under the direction of Nigel West, King's once again delivers a seriously entertaining pantomime.
No self-respecting panto script would be complete without its local humour – and the Glasgow banter in here is so good that may well be delivered on a drip on the NHS. Everywhere from Dunoon to Duntocher is in for a ribbing and McHugh's legendary grasp for a good Scottish gag is in full force.
Dusted with McHugh's own spin on the classic variety routines and a bit more fun and frolics from Wishee Washee and Widow Twankey, Act II makes up for lost time and whooshes along in a style much more familiar to the King's audience. This is more like it – oh, yes it is!
Olivier Award-winning Frances Mayli McCann excels as Princess Jasmine, belting out tunes without breaking a sweat and finding time for some empowered karate in between. Straying far from the caricature that so many employ to play the female protagonist, McCann's performance is a delight to watch.
Once again, Paul-James Corrigan shows us he has all the talent to lead alongside his bill-topping co-stars, but the production fails to give his character (The Imperial Palace Guard) enough material. In a brief solo moment, he commands the stage with all the gusto that he gave only months earlier in the mega hit Sunshine on Leith – which is why it's such a shame he wasn't given more to work with.
Cementing his place in King's panto legend is local boy Johnny Mac as Wishee Washee. After serving his apprenticeship at Glasgow's Pavilion Theatre, Mac steps up to the King's stage once again, riding the wave of last year's debut and firing on all cylinders without ever missing a beat.
His universal appeal is well earned and his rapport with the audience is arguably unparalleled; it's no surprise that his position at the King's is already confirmed for next year. As variety talent in Scotland goes, you'd be hard pushed to find someone as talented as Mac, whose songsheet madness will definitely leave you wondering just how smart you are…
Then there's Scotland's First Lady of pantomime, Elaine C Smith. The biggest audience reaction may well be the gasp when she discloses that she is 60 years old; having delivered a performance every bit as energetic as her legendary performances of 15 years ago, she remains a firm audience favourite for good reason. Her Riverdance set in Act II is worth the admission price alone.
It's a pity that our show's namesake, Aladdin (Lee Dillon-Stuart), can't keep up the pace with his co-stars. It may be hard to make a mark against some of the biggest names in the Scottish pantosphere and unfortunately Dillon-Stewart's performance fails to cut the mustard.
Packed full of songs, the rewording of chart-toppers make for much better listening than the Qdos back catalogue, which fails to make any real impression. Under the direction of James Dunsmore, the King's Theatre orchestra are as much of an institution as the late Gerard Kelly's Doc Martens and they deliver without hesitation and bring the atmosphere up and down as is necessary – an incredible feat for the five-strong band.
Though it may not be shining brightly as last year's unstoppable success, Aladdin shows that the King's Theatre really do know how to throw a party. With an all-star cast brimming with talent, it's well worth taking a trip to Old Peking this festive season for an adventure as you've never seen it before!
Aladdin at King's Theatre, Glasgow until 6 January, 2019