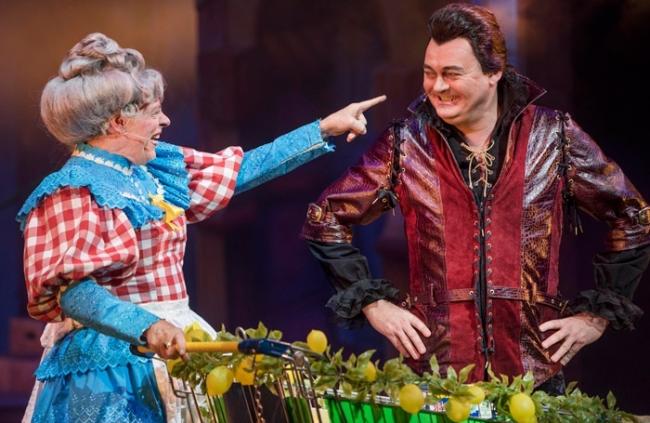 ⭐️⭐️⭐️⭐️⭐️
Every so often, a show comes along that completely redefines how theatre should be done. In this year's panto adventure, Beauty and the Beast at Edinburgh's King's Theatre not only shows that pantomime is still very much alive and well, but also sets the new standard for truly exceptional variety theatre.
Variety really is at the heart of the show. From the first bar of the score blasted by Andy Pickering's orchestra, the creeping of dry ice across the boards and the burst of the multi-coloured lamps, the show screams entertainment.
Its script, co-credited as the work of Allan Stewart and Michael Harrison, balances a simple plot with classic routines and sets a new example of how to construct a pantomime.
The music breathes life into old classics – "What A Selfie (Stick It In Your Family Album)" is a particular stroke of genius – and even the use of more dated modern tunes – see "Thinking Out Loud" – are perfectly slotted into the tight plot.
All the usual local digs are in there – beware those from Morningside and Leith – and the cut of the show is right up to date, with all the usual references to Love Island, Strictly and Brexit.
Running at two hours including an interval, it's short enough to make sure the little ones aren't bored and leaves everyone – young and old – begging for more. They say you should leave on a high? This pantomime kicks off on a high and never dips below.
The inimitable Allan Stewart (Auntie May Potty) excels more than ever before, defining the modern dame in harking back to the glamour of Stanley Baxter, but with a much more direct rapport with his audience.
Now in his 21st appearance as dame at the King's, Stewart's talent is unquestionable as he puts decades of showbiz experience to use, making sure that neither mishap nor heckle is not properly dealt with.
Grant Stott's baddie – Flash Boaby – is delivered with all the double entendres that the character's name would suggest, sending kids into hysterics and leaving many a grown-up blushing. Due to overwhelming public demand, he brings out a classic hit of his own, which ensures that the baddy is never too evil. Maybe the key to a good baddie is being likeable… or maybe it's just an obsession with the Hibees.
Though the final part of Edinburgh's panto trio had to step back this year due to ill health, the love for Andy Gray is still very much present. Whilst audiences look forward to welcoming him back next year, he'll no doubt be proud of what his pals have been able to deliver in his absence.
Belle (Gillian Parkhouse) returns to the King's this year and gives a stellar vocal performance alongside Chris Cowley's Beast. Parkhouse also enjoys a bit more bite than most lead girls, which adds to the refreshing feel of the show.
Technically excelling with every scene change – which keeps the whole piece flying forward – Beauty and the Beast also boast a level of trickery that rivals the thwarted plans of Guy Fawkes.
With more flash, bangs and wallops than Half a Sixpence, the show is as much a visual spectacle as a technical one. Once again, The Twins FX prove to be at the top of their game, whilst Flying by Foy will be sure to leave little ones gasping in awe.
Thinking outside the box makes this pantomime stand out against all others; its fresh-but-familiar feel should be the equation for all festive shows to follow, but it seems impossible to recreate the ingenuity here.
Amongst an endless list of outstanding moments in this pantomime, the run-across-the-stage message gag is given a whole new lease of life and the show boosts the best songsheet moment in panto history that prompts an audience reaction like no other.
The genius of this show clearly comes from Stewart himself, with his comrade Grant Stott right beside him in driving this truly exceptional piece of theatre forward. The uninterrupted joy that it is able to convey defies the myths that pantomime has to be cheap, tacky and unconsidered. The labour of love is clear to see and it's a delight to be a part of.
A true masterclass in pantomime, this production will be talked about for years to come as the gold standard. Beg, steal, borrow or pawn your granny to get a ticket.
Beauty and the Beast at King's Theatre, Edinburgh until 20 January, 2019