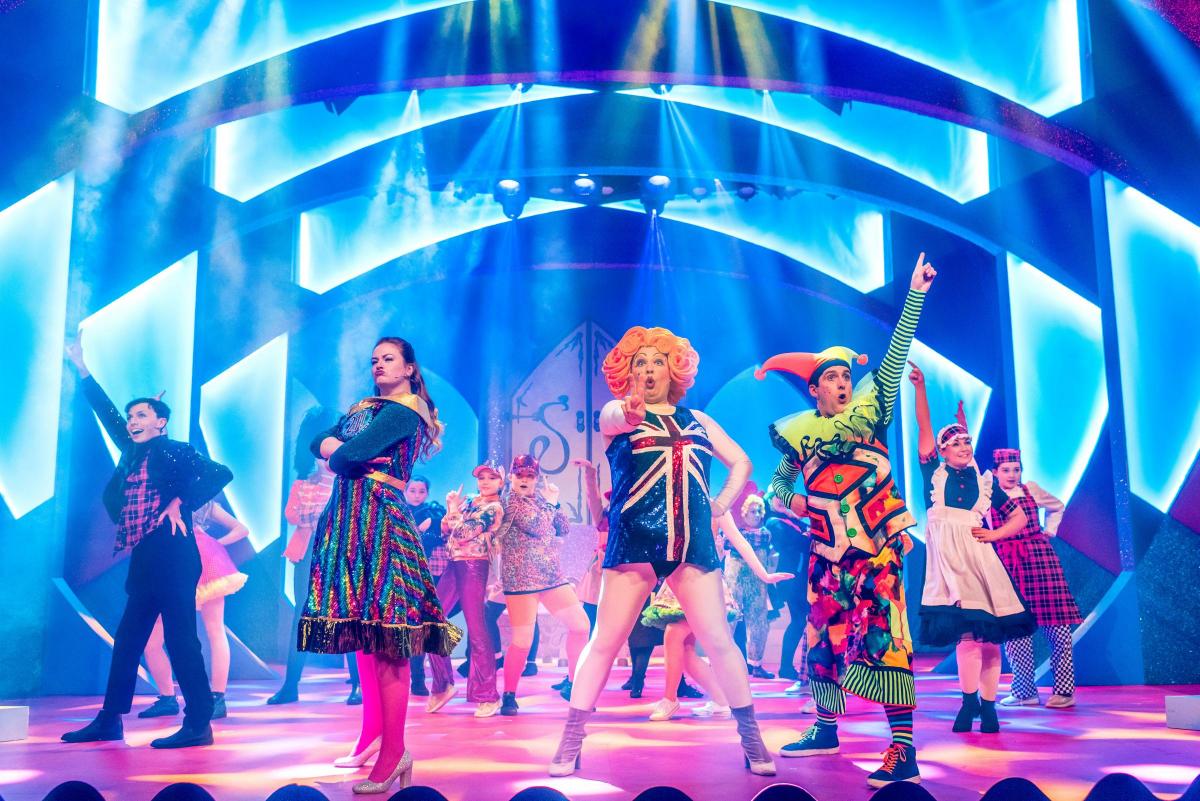 ⭐️⭐️⭐️⭐️
In the Johnny McKnight world of panto, anything you knew about a story is left at the auditorium doors. In his latest take on Sleeping Beauty, Sleepin' Cutie, McKnight delivers a fun-filled, panto-tastic adventure that is sure to keep big kids as happy as the little ones.
McKnight's script is typical of his eccentric style, and despite losing momentum in Act I, the upside-down version of the classic tale is a real treat.
The undisputed star of the show is Robert Jack's Jester. Even without McKnight – who stars in the Macrobert show that he writes and directs on alternate years with Glasgow's Tron Theatre – Jack holds the fort with ease. His likability is infectious and off-the-cuff remarks match the cracking script without it ever feeling like a competition.
Keith McLeish makes his Macrobert dame debut and delivers a Beyonce-inspired Fairy B that leaves little to the imagination. This dame's crazy costumes rival the ambitions of McKnight himself, and McLeish makes clear that he can stand on his own two feet – even in seven-inch heels.
Our baddie Queenie McMeanie (Helen McAlpine) may not be as extravagant in the wardrobe department, but her evil fairy is a real delight to watch. Coupled with a thigh-slap-tastic Prince Charming (Katie Barnett) and lead girl Bonnie (Cara Swinney), the principal cast prove that it's quality over quantity in this production.
As ever, great efforts are made to ensure that the local youth cast has a real stake in the production, not only in musical numbers but with speaking roles too. This is a particularly charming – and quite unique – selling point for this panto, living up to the clear fact that Macrobert Arts Centre works for the community, and with the community.
Original songs struggle to have their lyrics properly heard over the overpowering backing tracks and their fast pace does, at times, have a part to blame. However, the pop hit rewrites are typically sharp, staying bang up to date with current affairs and culture.
Sleepin' Cutie is a wee gem of a panto. In typical Macrobert fashion, it is a little bit different but remains accessible for those who like traditional pantomime as well as those looking for something more off-piste. For kids of all ages – even mums and dads, who are just big kids at heart – this panto really does give something for all.
Sleepin' Cutie at Macrobert Arts Centre until 31 December