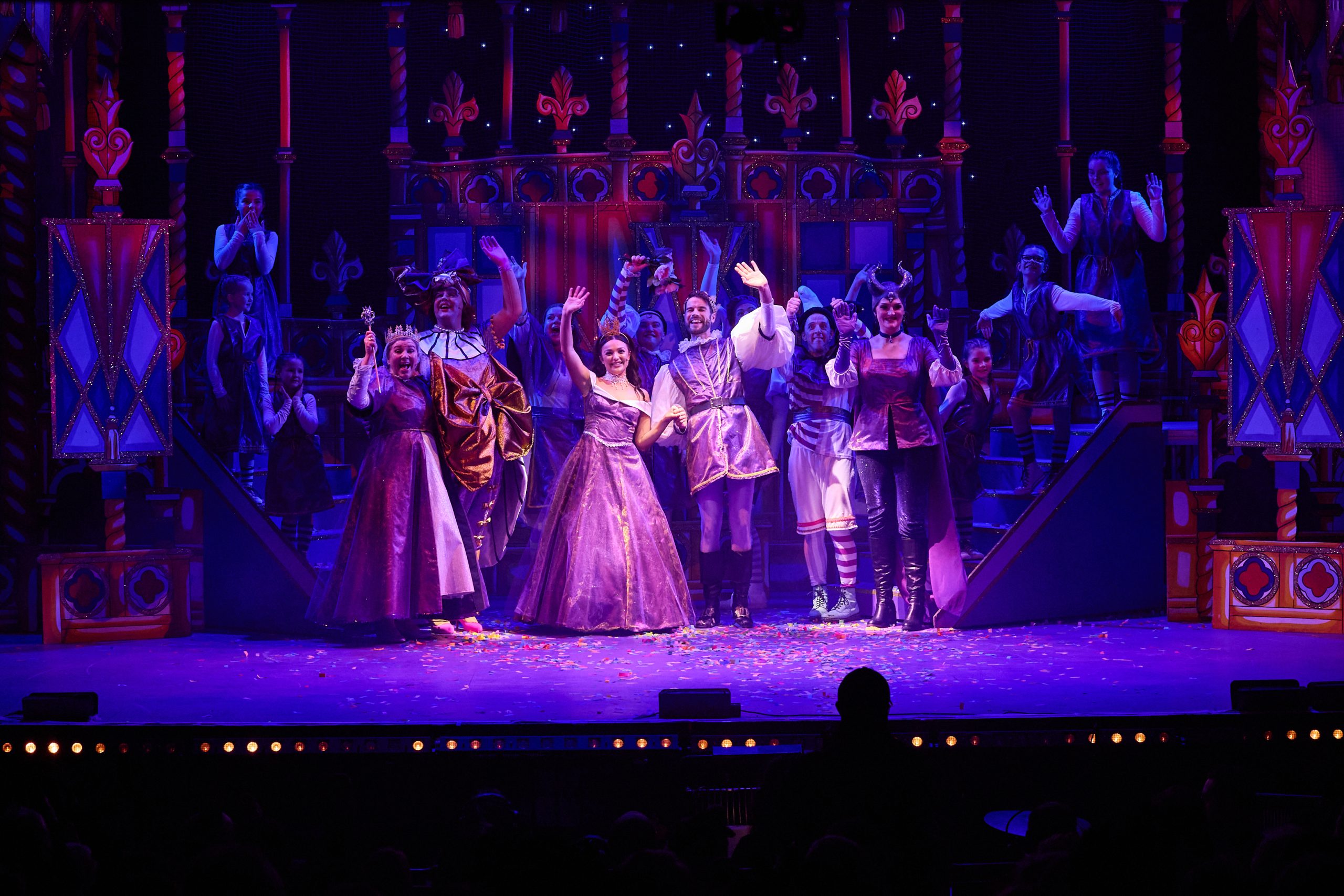 ⭐️⭐️⭐️⭐️
Ayr Gaiety once again shows it's not afraid to take risks in this bold and refreshing take on one of panto's most loved fairytales.
This in-house production really pushes the boundaries of what's possible on Scotland's smaller stages, showcasing the very best Ayrshire patter with a healthy dollop of magic and romance for good measure.
Fraser Boyle and Ken Alexander's reworking of the story is as much a love letter to storytelling as it is to the art form of pantomime itself.
Although a little too long and complicated in places, this fairytale rattles along at pace to keep the interest of the wee ones. It's twists keep even the most seasoned panto-goer on their toes, never quite sure what will happen next.
The fresh take also challenges issues of consent and gives an inspired solution to the titular character going to sleep for the majority of the show. It's a completely unique tale for the Gaiety stage.
The perfect panto pairing of Chiara Sparkes and David Rankine as Briar Rose and Prince Robbie is a sheer delight. Sparkes has a sparkly charm and a stunning voice, stopping the show with a heavenly rendition of 'The Life I Never Led'.
Rankine's caricature of the thigh-slapping principal boy is a gas – and his self-depreciating delivery is a rare treat for a panto Prince.
Stepping in to lead on laughs, Danny Holmes embodies the absent Fraser Boyle's Nannie Annie McCuddles impeccably. Close your eyes and you'd think the Gaiety's Dame was there.
As daft boy Jimmy Jester, Gavin Jon Wright has an energy and madness about him that wee ones just love.
Every panto needs a baddie and Ali Cleland's evil Carabosse is effortless in her command. She's not afraid to belt a tune out too… Her nonchalant baddie is a real joy to experience.
A four-strong Greek chorus might seem superfluous in this pantomime, but their presence allows outrageous Ross Baxter steals the limelight with his camp interventions.
It's all tied together by Bella the Arran Fairy, played by Julie Coombe – who acts as both narrator and instigator of magical sparkles!
The whole production is firmly rooted in Ayrshire and isn't afraid to do things it's own way. A particular highlight is a stunning piece of stagework set to a pumping rendition of ELO's 'Mr Blue Sky'.
If this year's panto offering is anything to go by, Ayr's Gaiety Theatre will remain the one to watch for new and innovative ways to deliver a modern pantomime to audiences in Scotland.
You don't want to miss it!
Sleeping Beauty at Ayr Gaiety until 31st December 2022 – https://thegaiety.co.uk/events/sleeping-beauty/