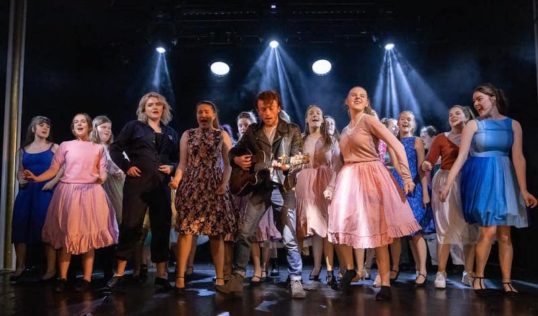 ⭐️⭐️⭐️
Channelling the music of Elvis Presley and Joe Pietro's book, All Shook Up is an easy-going musical that's sure to entertain those who see it.
Unfortunately, this is the first piece from Captivate Theatre that doesn't quite hit the mark. It's not down to the talent of those involved, but rather the poor narrative from the jukebox musical available to them.
Following Chad, the Elvis-inspired loveable rogue who shakes up a sleepy Southern village, All Shook Up channels the hits of the King himself to serve up a twee musical which is little on substance but big on song.
The company, led by Aidan Cross as Chad, are in fine voice. Their delivery of a particularly rousing version of "Can't Help Falling in Love" at the end of Act I brings on goosebumps.
Cross is a determined young actor with a great range and a huge amount of energy. Firm favourite Hazel Beattie delights as Sylvia and Sally Cairns steals the show and showcases her fine comic acting as Bible Belt Mayor Matilda Hyde.
The plot itself falls into many of the pitfalls of other jukebox musicals. The show itself might deliver the hits of the audience want to hear, but we could be spared the two-dimensional storyline and focus rather on the songs that are so well loved.
As ever, the full auditorium is used with the cast regularly sat among the assembled audience, which keeps things energised through the two-hour performance.
There are, however, times when the stage is too packed with actors, which can detract from the well-choreographed musical numbers, turning the section into a mass of people rather than something altogether more coordinated.
Of course, the audience is here for the music, and on this front, they will not be disappointed. Under the musical direction of Ian Sutherland, Elvis fans with pleased to check-off a wide array of hits from "Jailhouse Rock" to "Burning Love" and everything in between.
The cast ensures justice is done to the music that inspired the story. For fans of Elvis, this show certainly won't disappoint.
All Shook Up at Gilded Balloon Rose Theatre until 11 August
Photo Credit: Leask Photography