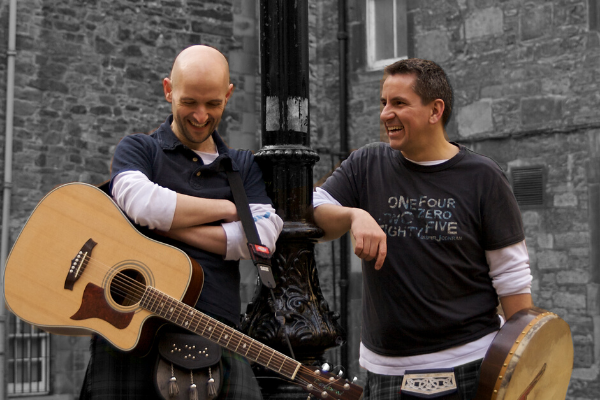 ⭐️⭐️⭐️⭐️⭐️
The Corries are arguably Scotland's best-known folk band. Their unique and distinctive take on Scottish classics have resulted in singalongs and pubs for generations, and their own songwriting skill secured "Flower of Scotland" as Scotland's official-unofficial national anthem.
Their unapologetic way of presenting their politics was never hidden either – their workings of classic hits would ridicule politicians of the day and became a lively focal point of the band's own live shows.
With one of the duo now sadly gone and the other stepping from music to enjoy retirement, it is delightful to see a band pick up the baton where the Corries left off, delivering an evening of song and story that will stir the hearts of tourists and locals alike.
The venue is the Quaker Meeting House, but there is no sign of peace at this full-throated sing-along of Scottish folk classics. The duo enter on the bodhran to "I Will Go", a rousing number with a thumping beat, before proceeding with an impressive list of songs, highlighting some of the best from the Jacobite era and all the way up to the near-present day.
The Sorries not only pick up the Corries' baton in the musical sense, but are just as keen to ensure their songs are performed to reflect the political issues of the present day. No political party or politician is safe – they are deliciously savage in their take on the political environment in front of us.
New Prime Minister Boris Johnson may be no stranger to ridicule in the House of Commons or as Mayor of London, so the stories take this ridicule to a whole new level – and the crowd love it, as it never verges on becoming exclusive.
The band don't take themselves too seriously, which is pretty crucial in keeping up the spirit and the music of The Corries. After all, this is a band who would regularly ridicule themselves in their own penned lyric.
The show is more of a natural extension of The Corries rather than just a tribute to the band, as the songs and stories are always evolving. From the song collections of Robert Burns and Sir Walter Scott to the much more modern Green Fields of France, The Sorries' setlist cannot fail to impress.
Closing with a rousing rendition of Killiecrankie, The Sorries 1-hour Fringe show feels like an essential immersion into the folk music of Scotland.
It's a pity that the curtain must fall, as the evening could easily turn into a rowdy singalong into the wee hours.
It's heartening to see Scottish folk music can be continued into the 21st century in such a celebrated, joyous medium. Safe in the hands of bands like The Sorries, it's clear that this music will survive for generations to come.
The Sorries at Quaker Meeting House on 7-10, 12-17, 19-24 August
The Sorries at the Bar at The Jazz Bar – 10 August