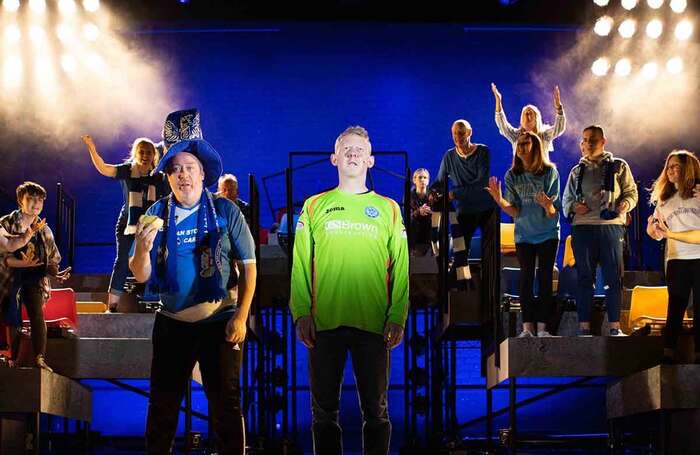 ⭐️⭐️⭐️⭐️
Capturing the agony, bliss and everything in between of being a football fan isn't easy. Putting it on stage, then, must be an even tougher challenge. But at Perth Theatre, it's all in a day's work.
17th May 2014 – a day no St Johnstone fan can forget. 130 years of joyless despair end in a thrilling Scottish Cup final against their derby rivals – but not everyone can pluck up the courage to go.
Lifelong Saintee Bobby (Colin McCredie) can't hack the pressure so runs away from his beloved team to the top of Ben Lomond, where he meets Helen (Lorna Craig) – who happens to be running from the pressures of her own life.
Bobby's selfishness might be catching up with him, but McCredie makes sure this lead is still a loveable rogue. With an assured performance from Craig alongside him, the pair ensure the pace of the production is pitch-perfect.
Bobby's brother, Del (Tom McGovern), might also be Saints daft – but there's air to clear with his football-daft daughter Wendy (Greer Montgomery), and even a Cup Final can't get in the way of that. Scenes between the two are truly magnificent, with a real and raw grit to them.
This charming tale marries the madness of supporting a football team with the blissfully unaware others carrying their own cross.
At times this football-focussed fantasy preaches that there are more important things in life than following your team – a strange choice given the premise of the play.
Tangential references to domestic violence seem unnecessarily intense to illustrate the point – but at its heart this is a love letter to the local team and it's support.
Complete with a community ensemble in fine voice, Oh When The Saints will bring the laughter in spades – it gives megaphone to the people of Perth and lets them shout!
It's clever too – using pantomime tropes to turn the Glasgow powerhouses of Celtic and Rangers into the Ugly Sisters is genius. Oh, yes it is!
Oh When the Saints puts the spotlight on the community that surround it. It's a play for their local punters, by their local punters – and they love it by the Double!
Oh When The Saints at Perth Theatre until Saturday 18th June 2022