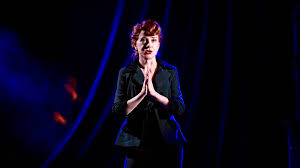 ⭐️⭐️⭐️⭐️
It's rare for a West End stage to host a bill of stars quite as distinguished as the line-up 'appearing' in Songs for Nobodies.
The show itself was constructed by Joanna Murray-Smith, a self-confessed admirer of the singer and impressionist Bernadette Robinson. The idea of bringing ordinary people's brush with fame to the stage is an appealing one, and one which is – for the most part – handled effectively.
But whilst there is a vague idea of story around the music, the piece really is all about the big numbers and could shed some of the less eventful plot.
It's also something of a shame that the 'Nobodies' never really are front-and-centre, but rather a vehicle by which to welcome the big name to the production. Nonetheless, the stories are a nice way to frame the event, giving a little more than just a standard impressionist set.
Bernadette Robinson is the undisputed star of this one-woman show – though she gives the impression (no pun intended) that the bill is full of a wide variety of stars. Robinson shows herself to be equally at home in the shoes of Billie Holiday as Patsy Cline, switching characters and vocals without a breath.
The evening's staging may be simple, but it is incredibly effective. Without the glitz of a full-scale musical, small props are ample to convey the stories without overcomplicating things.
The performance is much more suited to a cabaret-style room than a West End theatre, but Robinson ensures that each person – from the front row to the nosebleeds – is made to feel that this performance is just for them.
The real tour-de-force comes with Robinson's performance as the late Edith Piaf, which was deserving of an ovation all of its own. Though the song choice may be a little schmaltzy, it is delivered with a passion and emotion that few can come close to.
For a brief moment, we may be forgiven for thinking we are sitting in the back of a smoky German bar, listening to the Little Sparrow herself.
Songs for Nobodies may be a bit of a slow-burner, but moments of sheer joy eclipse any reservations. As a performer, Robinson excels in her vocal talent and is sure to deliver a glorious homage to many of the great voices that are sadly no longer with us.
Songs for Nobodies at the Ambassadors Theatre until 23 February