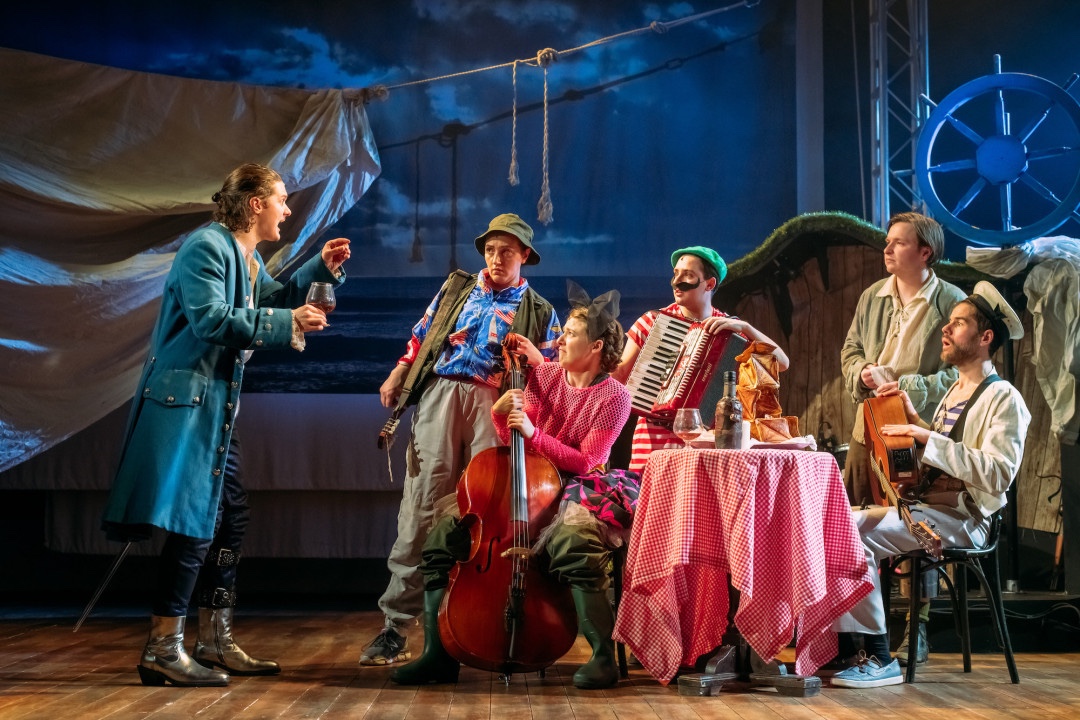 ⭐️⭐️⭐️⭐️⭐️
In modernising a classic text as well-kent as Robert Louis Stevenson's Kidnapped, Isobel McArthur and the National Theatre of Scotland deliver a rib-tickling adaptation that will delight, enchant and inspire.
This swashbuckling adaptation of Robert Louis Stevenson's novel raises the standard of the dusty adventure and isn't afraid to push boundaries with its modern twists.
Telling the tale of Robert Balfour on his self-finding journey to manhood, Kidnapped follows Balfour on a mission to find his fortune following the death of his father.
Along the way, Balfour encounters everything from cranky natives in the Scottish Borders to mermaids in the bottom of the briny. But it's the connection to runaway Scot Alan Breck Stewart that really fizzes in this dramatic story.
Ryan J MacKay's wide-eyed Balfour is a delight to watch, whose rapport with Malcolm Cumming's Alan Breck Stewart is electric.
With a vibe of the delectable love child of The Cheviot, The Stag and the Black, Black Oil and Bob Dylan's understated Girl from the North Country, Kidnapped is a self-assured barrage of entertainment that is firmly rooted in the Scotland of its setting.
Writer Isobel McArthur's inspired decision to pair the real-life Mrs Stevenson's life story – ably played by Kim Ismay – with the novel is an inspired one, merging on important beats without overshadowing the main narrative.
Her marriage of the two tales is extraordinarily slick, injecting humour and light into the darker moments of this adventure.
That's not the only marriage in this production, though. In typical McArthur style, the 18th Century tale is set to a 20th Century score of pop gold.
A terrific ensemble burst onto the stage with an emphatic energy. The quick-switching between characters is no mean feat, but this team do it without breaking sweat. David Rankine, Danielle Jam and Christina Gordon in particular inject an adrenaline-fuelled humour that is utterly infectious.
Inclusivity isn't just a tick-box exercise in this NTS production; it's embraced emphatically – the two BSL performance interpreters (Amy Cheskin and Sarah Forrester) are every bit as part of the cast.
Their ability to capture the emotion, punctuation and rhythm of this production is extraordinary.
Kidnapped is a delectable melting pot of everything that is loveable about theatre. It brings a dated tale to the modern day in a seamless merging of real-life woman with the fiction of Balfour's journey.
There is one word by which this production can be summed up: unmissable.
Kidnapped at Theatre Royal, Glasgow until Saturday 8th April 2023 then touring Scotland, Newcastle and Brighton. Full dates can be found: https://www.nationaltheatrescotland.com/events/kidnapped