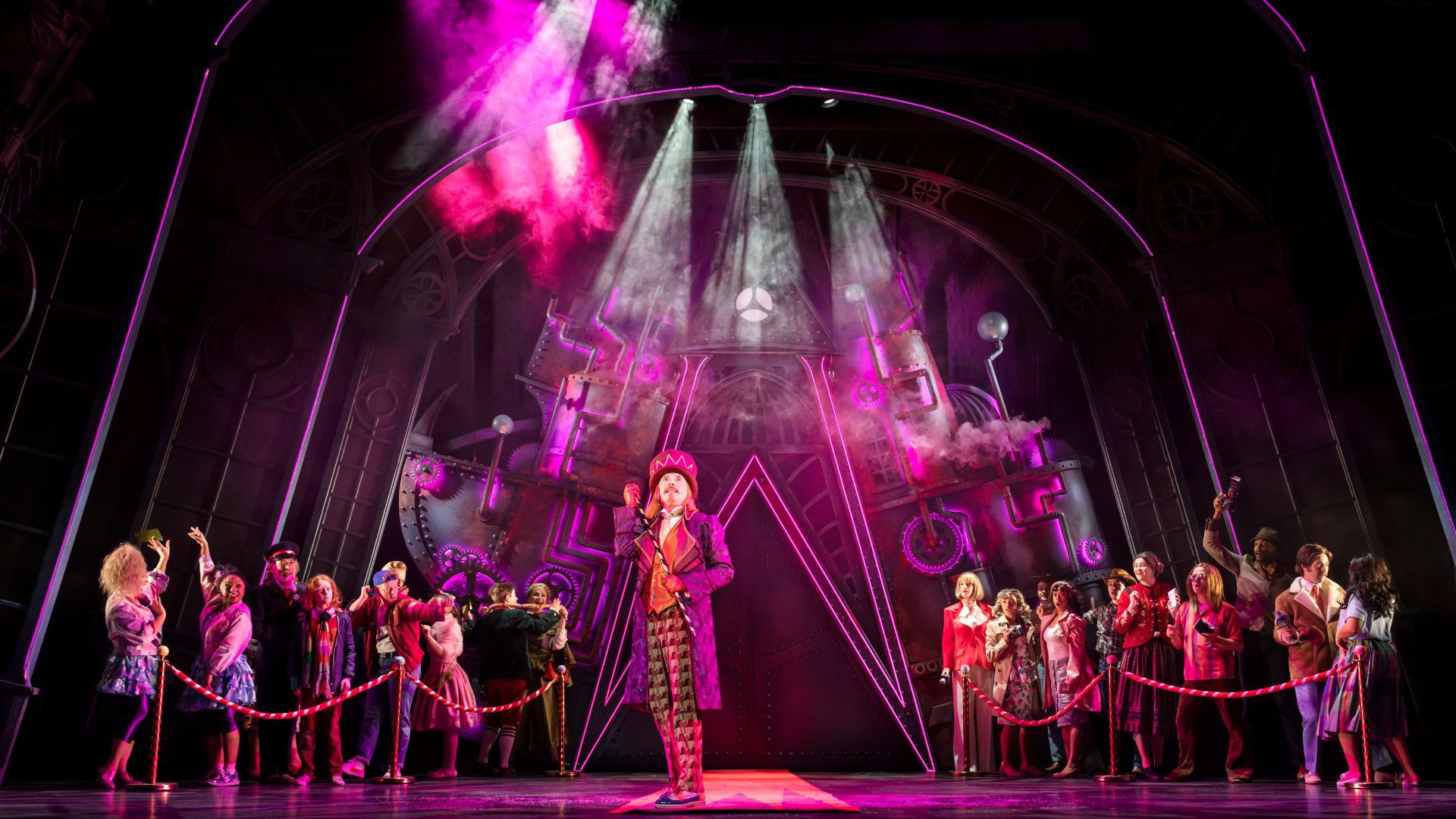 ⭐️⭐️⭐️⭐️
Based on the classic Roald Dahl story of the triumph of good over greed, Charlie and the Chocolate Factory the Musical follows Charlie Bucket on his rags to riches journey which all starts with one golden ticket.
Despite including some songs from the original motion picture, 'Candyman' and 'Pure Imagination', this production is more-than modern with gender-neutral casting of Charlie and an enthralling use of technology.
The show opens with Charlie Bucket, the only pop of colour amongst a grey scrap heap as he scrounges for Wonka Bar wrappers in the street.
Simon Higlett's set seamlessly moves from bland scrapheap to shopfront full of Wonka bars, into the Bucket home filled with cabbage soup dinners and love.
Tucked up under the roof are Charlie's four grandparents squeezed into one bed, relying on their grandchild's resourceful nature and vivid imagination to fix their home and raise their spirits.
The stage's apron is framed by an arch of scrap, encrusted with TV screens which allows us to instantly transport into live TV reports of the Golden Ticket winners: Augustus, Veruca, Violet and Mike.
Ty Reece Stewart's hilarious performance as news reader Jerry introduces us to the first four Golden Ticket winners assisted by the witty lyrics of Scott Wittman and Marc Shaiman. The wealth and greed of the ticket winners light up the stage in technicolour in contrast to the drab Bucket home.
But then Charlie's moment comes, unwrapping a Golden Ticket and kick-starting the audience falling in love with Michael D'Cruze's excellent portrayal of Grandpa Joe in Don'cha Pinch Me Charlie and beyond.
Despite the gradual build of the story, Act One closes at the glowing gates of the Wonka factory. Bursting onto stage is the spellbinding Gareth Snook as Willy Wonka who charms audiences with the perfect balance of weird and wonderful.
The slick set changes of Act One are lost after the interval as we enter the Wonka factory where we must rely on pure imagination.
The complex set that the show's 2013-2017 West End run used has been replaced with a captivating use of projections and illusions, some of which fall short of depicting the vast and whacky rabbit hole that Wonka's factory is in the Dahl original.
The ensemble come together with Emily Jane Boyle's streamlined choreography as shiny and robotic Oompa Loompas as each of the Golden Ticket winners are cheated by their own greed.
The show closes with the iconic trip in the glass elevator which tugs at the heartstrings, reminding us that despite all of glitz and glamour we have witnessed, the resourceful and hard-working Charlie is indeed the most deserving winner of the greatest prize of all…Wonka's factory.
Fun for all the family, this scrumptious production of Charlie and the Chocolate Factory the Musical is on stage at the Edinburgh Playhouse until 15th April 2023.