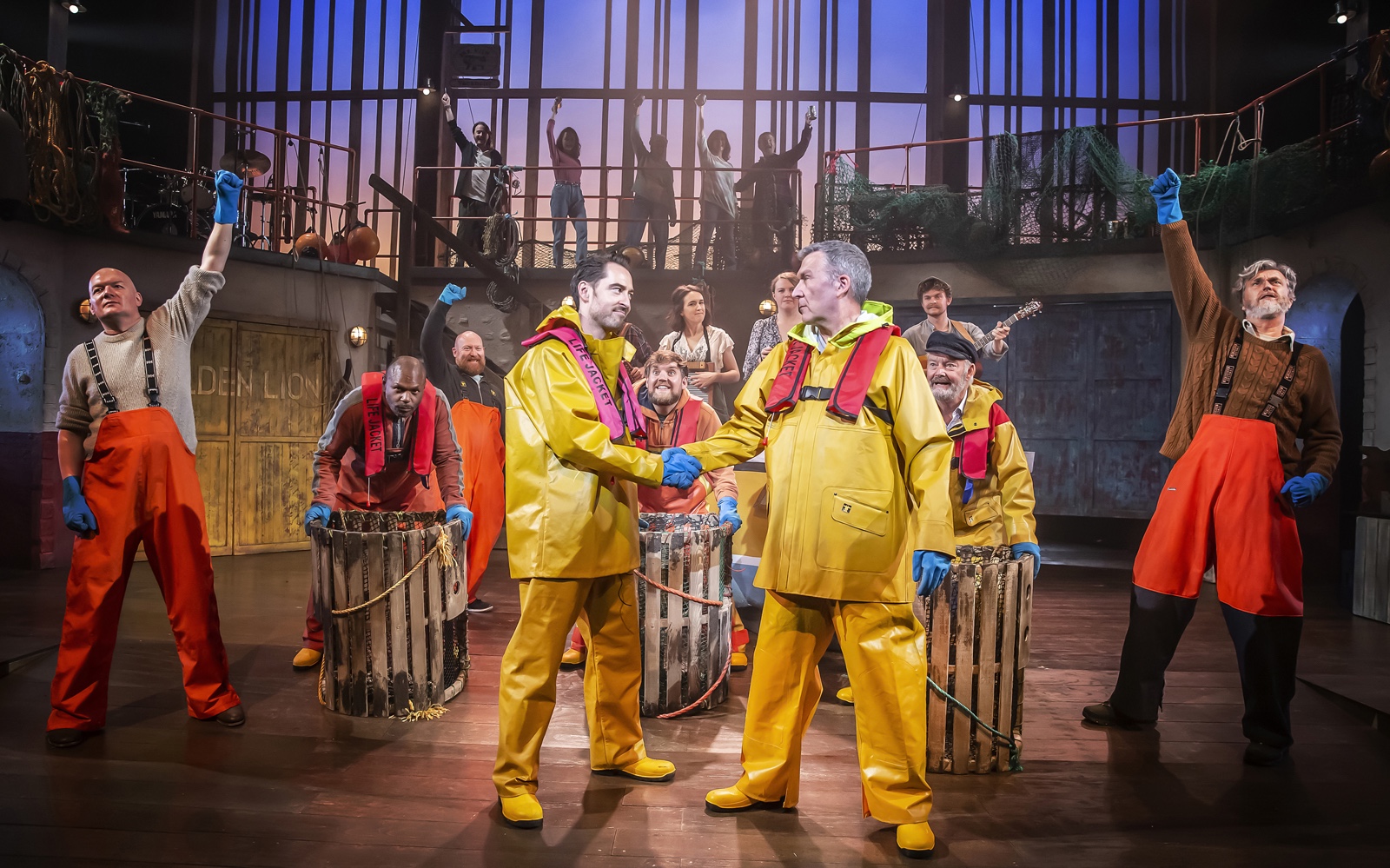 ⭐️⭐️⭐️⭐️
The heartwarming tale of a merry band of Cornish fishermen who took the UK chart by storm finds its way to the stage, following the immense success of the 2019 motion picture.
Telling of the discovery of the shanty singers by downtrodden talent scout Danny (Jason Langley), Fishermen's Friends the Musical documents the unprecedented rise to fame of the unconventional chart-toppers – and peppers a sweet love story along the way too.
Lucy Osborne's brilliant set brings the idyllic Port Isaac to life. Stunning scenes of fishing boats navigating choppy waters give way to the safety of the village pub, where actors and musicians roam freely.
Married with the music of the band, this makes a delightful evening of entertainment.
The dramatisation may be an authorised extension of the true tale this merry band, but it is delivered with a cheesy warmth that is firmly fit for the stage.
The real star of this production, of course, is the music – dutifully handled by the incredible ensemble, including on-stage musicians, performing every note live with emphatic gusto.
Beautifully arranged, the packed set opens with a rousing 'Nelson's Blood' before ticking off all the hits – from 'John Kanaka' to 'Rattlin' Winches' – and ending with a rousing 'South Australia'.
James Findlay's musical numbers, like the stunning 'Village By The Sea', bring a jaunty new feel to the tale. Parisa Shahmir deserves particular credit for her performance as the strong-willed Alwyn, whose voice is as delightful as her quick-witted character demands.
Fans of the Cornish lobster catchers won't be disappointed with the breadth of catalogue that's covered in the show but the production ensures even the most uninitiated can't help but tap away to the thick drumbeat of the centuries-old shanties.
The power of these ballads takes centre stage every time, credit to James Grieve's direction.
These songs only live on with a live audience to enjoy them. Fisherman's Friends finds the perfect blend of song and story that will delight audiences young and old.
With a song in your heart and a spring in your step, you can be sure to leave feeling suitably warmed by this delightful production.
Fishermen's Friends the Musical at King's Theatre, Glasgow until Saturday 13th May 2023
Photo credit: Pamela Raith