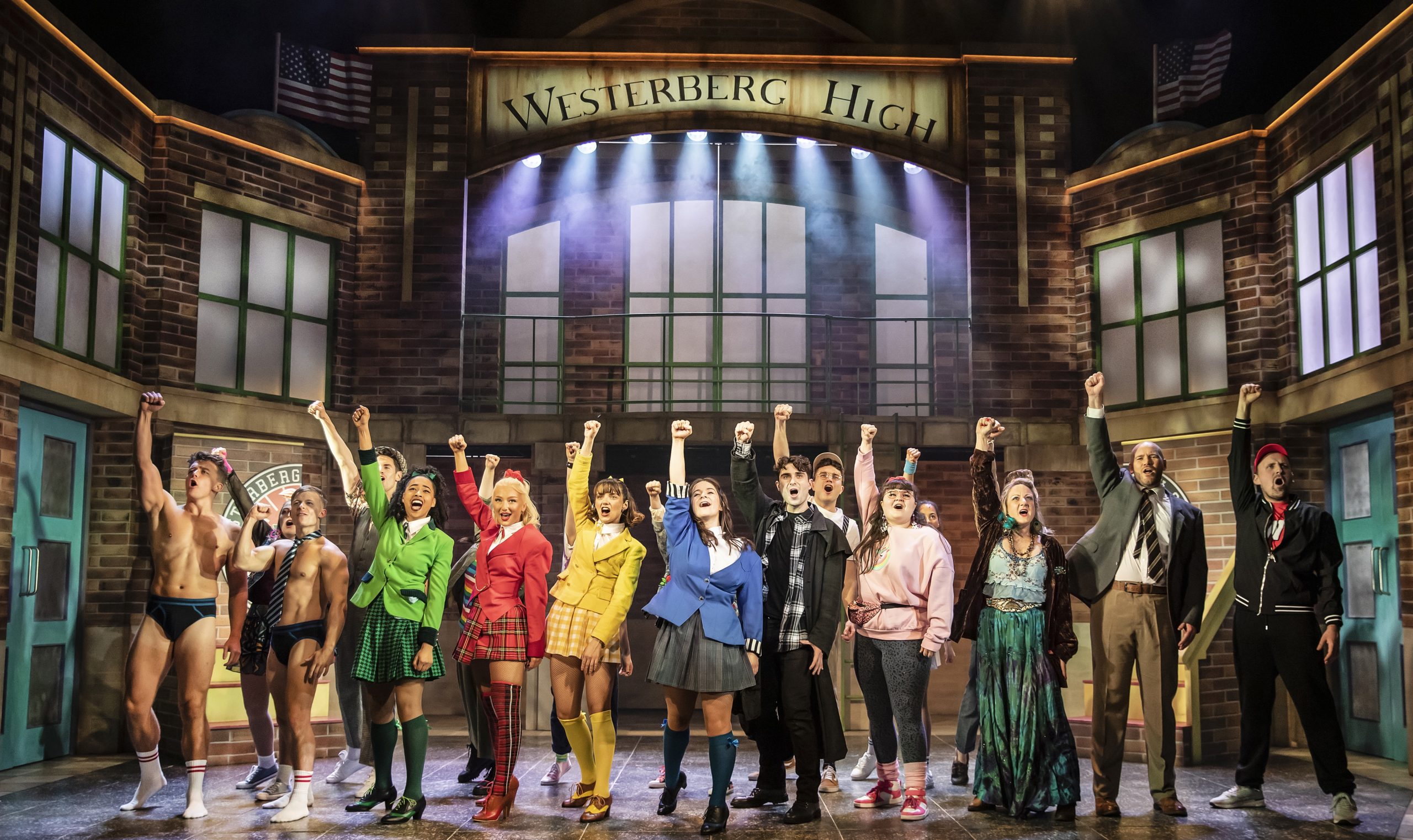 ⭐️⭐️⭐️
With a devoted following, Heathers the Musical fast cemented its position as a cult classic in London's West End.
Now the musical, based on the 1989 film of the same name, embarks on its UK Tour bringing the shocking students of Westberg High to life in an energetic – if thoroughly dark – night.
For the uninitiated, Heathers is a shocking coming of age story that stacks up bulimia, substance abuse and teen suicide. Not exactly the idea of a fun night at the theatre…
But for its devotees, this morbid comedy takes a torch to the sickly sweet Hairsprays and High School Musical's of this world and tells a gritty story far more in touch with reality than the bubblegum alternatives.
When dorky outcast Veronica Sawyer (Jenna Innes) bursts into the inner circle of the Heathers, old loyalties are cut and her eye is caught by the mysterious J.D. (Jacob Fowler). Following a series of tragic deaths, she has to decide where her loyalties lie and navigate the social pressures of being popular.
Much of this dark tale is relatable – the awkward social cliques of High School, the hilarious attempts to act grown-up and adolescent boy's obsession with sex.
But there isn't much depth to this musical, neither in plot or score. The simplistic, guitar-heavy numbers wouldn't be out of place in any other American musical.
The confused plot tries to ride two horses in presenting a more realistic version of High School, but marries it with the wildly out of place paranormal.
There's nothing that hasn't been done before on a technical level either – but the production does go like clockwork with a dynamic set and larger than life caricatures bursting from the stage.
The real star quality is down to a series of fantastic performances from a truly talented troupe of actors.
Back on her home turf in Scotland, Jenna Innes delivers a powerhouse vocal as protagonist Veronica. She transforms from social outcast to 'it' girl in a stunning merging of David Shields' costume and set.
Verity Thompson embodies the fabulously flippant Heather Chandler effortlessly, invoking as much abhorrence as adoration, in the way only this Heather can. Katie Paine's Ms Fleming injects some much-needed light into the darkness of this tale.
It might be a surreal, sometimes supernatural, affair but it's hard not to fall for the unconventional charm of Heathers.
Based on the reaction of the audience in Glasgow this week, it's going to remain a firm favourite for a long time to come!
Heathers the Musical at King's Theatre, Glasgow until Saturday 1st July 2023, then touring – https://www.heathersthemusical.com/tour