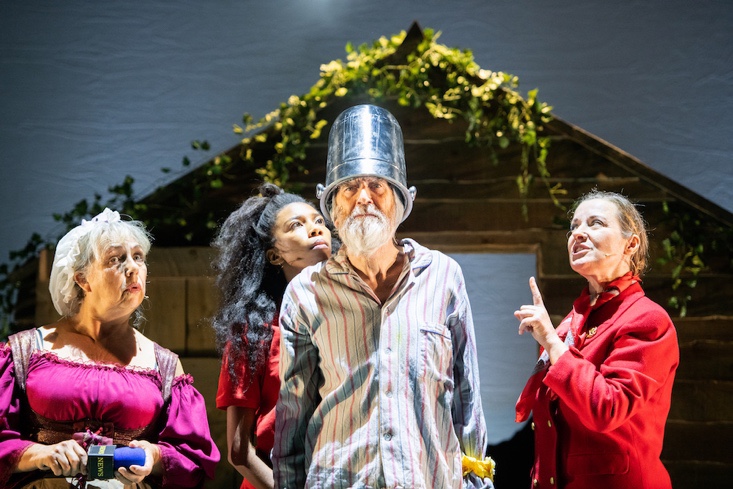 ⭐️⭐️⭐️
Throw out any preconceived ideas about Don Quixote for this Dundee Rep production, in conjunction with Perth Theatre, breaks the mould in many ways in an entertaining retelling of a centuries-old classic.
The premise is simple – an 87 year old man (Benny Young) faces losing his home to pay for his own care. He chooses to instead go on one final adventure, accompanied by his gormless nephew, and meets a number of twists along the way.
Ben Lewis' script is undeniably entertaining while challenging many of the social norms we take for granted today. We can't help but be charmed by the grumpy old codger we are presented with.
Don Quixote is challenging, however; at times it feels like we are witnessing the moans and groans of an old man while at other times it feels on the cusp of greatness.
The pendulum swings firmly to the latter with the arrival of Sandy (Sean Conor), who brings comic relief by the bucketload – as well as supercharging the pace of the piece.
The five-strong cast easily flick between an array of characters, anchored by Benny Young's eccentric take on the principal character.
The piece is underscored by impressive Flamenco-inspired guitar work of Paddy Anderson and Pablo Dominguez, but this flourish seems an unnecessary nod to the legendary beginnings of this show.
Although it doesn't quite feel the finished product, the potential is undeniable. Audiences are guaranteed a good laugh in this new adaptation, which is worth heading along to the Rep for alone!
Don Quixote: Man of Clackmannanshire at Dundee Rep until Saturday 15th October 2022, then touring