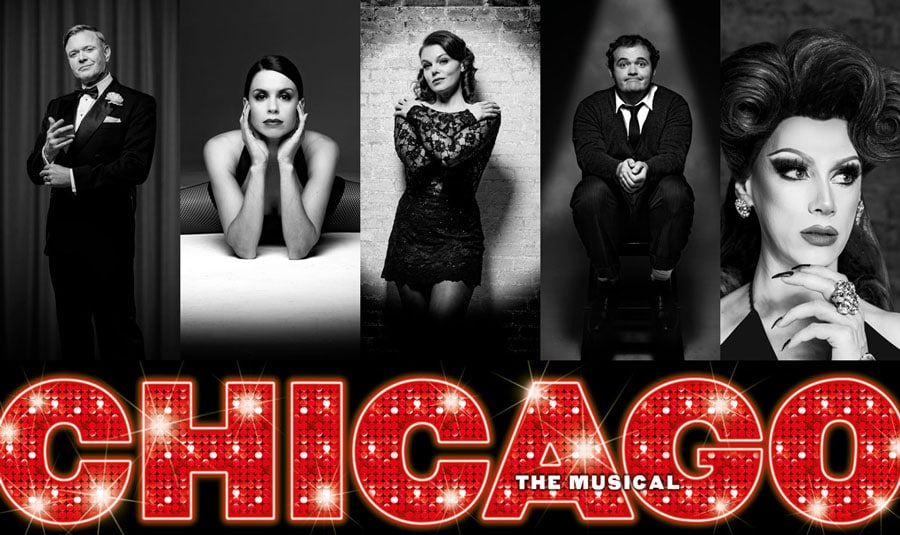 ⭐️⭐️⭐️⭐️
After more than 500 days in the dark, Glasgow's King's Theatre reopens with a star-studded riotous tale of crime and corruption.
The distinctive opening bars of 'All That Jazz' open the evening, as the auditorium is at once transformed into a dingy, smoke-filled watering hole of the 1920s.
The songs are familiar – even to those uninitiated with the musical. They each ooze a frosty cool that wouldn't be out of place if they were to be pumped onto the ivories in the dingy corner of a speakeasy.
Hits like 'All That Jazz', 'Razzle Dazzle' and 'Cell Block Tango' are as much part of popular culture as they are of the show itself. Chicago could stand on its own with these numbers alone, but it offers its captivated audience much more.
The Fosse-inspired choreography is a masterclass in cool. Every twitch is deliberate and embellishes the sordid tale effortlessly.
Chicago doesn't rely on big sets or endless costume changes – there's rarely any more fabric than fishnets on display – so we notice every detail that is
It's charm is its simplicity. The deliciously dark story explores fame, deception and sleaze through the confines of the oppressive Chicago clink.
The ensemble is incredibly tight – never putting a foot out of place.
Darren Day's Billy Flynn gives the morally-detached lawyer a cheeky likeability. 'We Both Reached For The Gun' is a riotous spectacle, which the whole ensemble performs with gusto.
Faye Brookes is a revelation as protagonist Roxy Hart. Combined with her opposite, Djalenga Scott as Velma Kelly, the pair set the bar incredibly high right until the curtain drops on a mammoth finale.
The nearly-forgotten Amos Hart is beautifully played by Joel Montague. The pathos is tangible and he squeezes every bit of sympathy from the audience, without over-hamming the role.
You might think Chicago is a little understated to raise the curtain of the King's after more than 500 days. You'd be wrong.
With all the Razzle Dazzle of the big musicals and a searingly hot score, Chicago is the perfect antidote for the theatre-starved audiences of Glasgow.
Chicago at The King's Theatre, Glasgow until Saturday 18th September 2021 – tickets available HERE