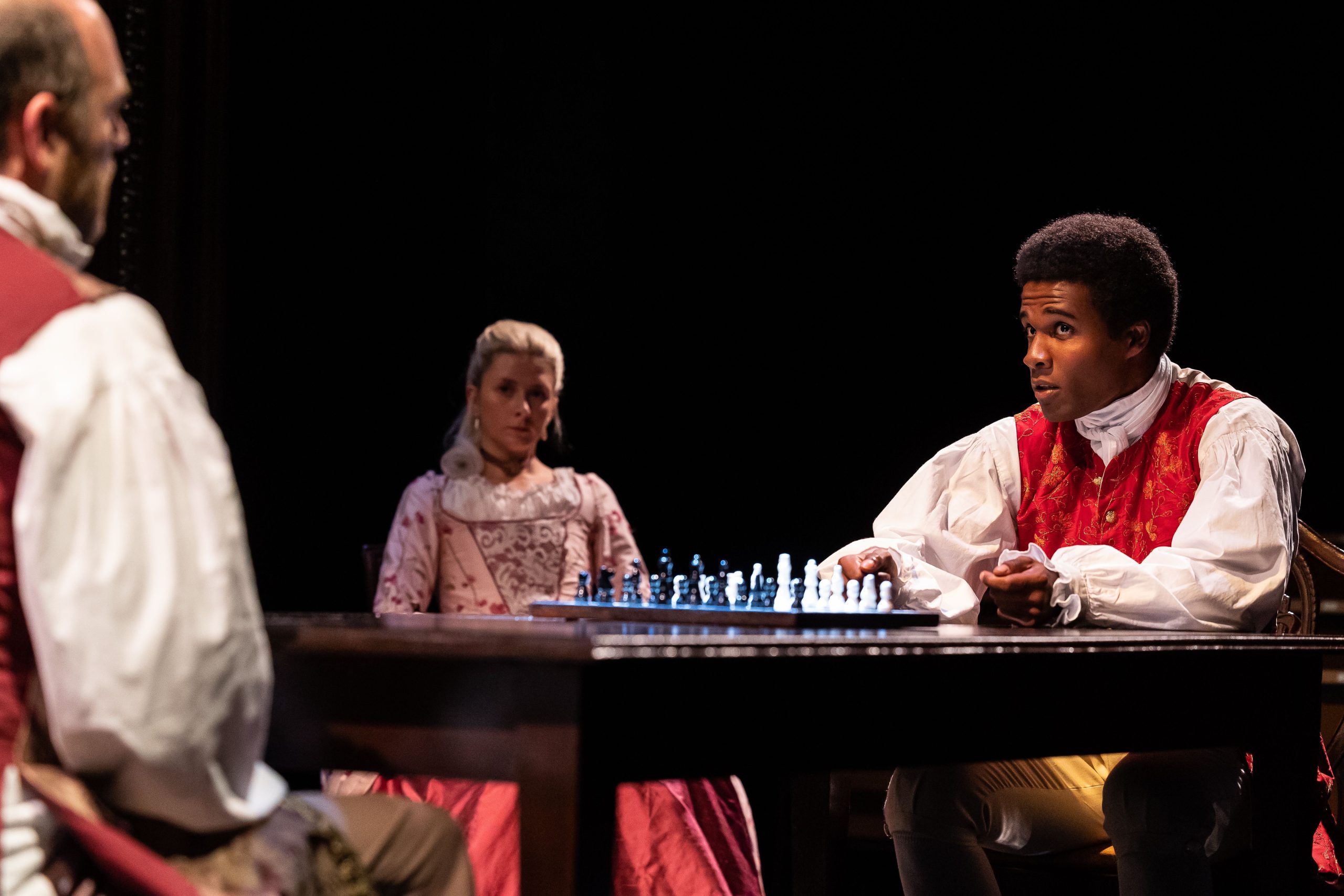 ⭐️⭐️⭐️⭐️
There is a wave crashing over Scottish theatre this Black History Month, disrupting the peaceful equilibrium to focus minds on Scotland's uncomfortable relationship slavery and racism.
Two major productions turn the spotlight on this – namely Rona Munro's immense James IV and now the National Theatre of Scotland's Enough of Him – playing in much smaller spaces but every bit as powerful.
It's refreshing to have these uncomfortable truths thrust at us. It's not an easy watch, but Enough of Him compels in its staging of the life of Joseph Knight – the man who established that Scots law did not recognise slavery, as he planned for a life outside of the stately home of his once Master, John Wedderburn.
As Knight, Omar Austin exudes the power Knight would have had to possess to earn his place at Wedderburn's table and the humility to stay there. It's a delicate balancing act but Austin is pitch-perfect.
In a packed script, May Sumbwanyambe performs a balancing act of his own; blending moments of sheer entertainment with the necessary hard-hitting drama that history prescribes.
Exploring the dynamic within the Wedderburn house offers a fascinating insight to who really held the power in the aristocracy. History often omits women, but Sumbwanyambe passes the microphone to both Margaret Wedderburn and maid Annie Thompson at different points, highlighting their own pressures and perspectives.
Rachael-Rose McLaren embodies the unloved wife of Wedderburn, turning to stomach-churning acts of self degradation to grasp the attention of her husband. For his part, Matthew Pidgeon spits insulting prose deftly. The twisted aristocrat crumbles as the play progresses and Pidgeon commands deadly silence as this unfolds.
Despite its heavy plot, there are moments of real light in this otherwise difficult play. As King and Thomson kindle a friendship, moments of genuine relief for the pair mirror the position they would have undoubtedly been in. It pays off showing these less dramatic moments in rounding off the characters assembled before us.
The quartet is complete with an assured Catriona Faint as the downtrodden maid Annie Thompson. Her rendition of "The Parting Glass" is haunting, becoming a central motif in the drama.
Enough of Him feels custom-made to fit the stunning studio at Pitlochry Festival Theatre, where the show makes its press debut. Fred Meller's set is extended as if by magic with Emma Jones' lighting.
The production is both gigantic and tiny in its scale – filling the auditorium with a relatively tiny footprint. Particularly arresting is the courtroom, transformed in a second by Jones, where Knight's fate was sealed.
It's testament to the work of the National Theatre of Scotland that these stories are staged. Scots undoubtedly need to confront our history. Few mediums are as engaging – or as impactful – as this vital production.
Enough of Him at Pitlochry Festival Theatre until Saturday 29th October 2022, then touring Scotland until Friday 18th November 2022