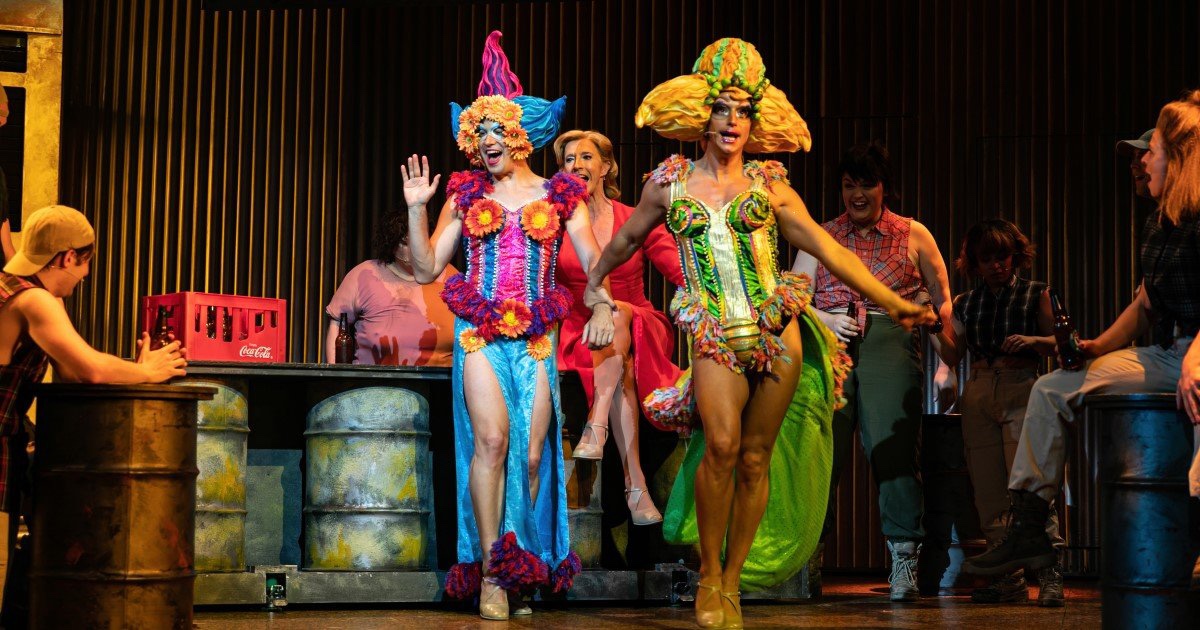 ⭐️⭐️⭐️
An evening of disco excess is ready to greet Glasgow this winter as Priscilla, Queen of the Desert rolls into the Theatre Royal on its UK Tour.
When drag queen Tick gets a call to meet his son on the other side of Australia, he packs up the costumes, wigs and heels and takes the journey through the Outback in a battered old bus called Priscilla. Two larger than life characters join Tick for the ride, causing merriment and mayhem all the way to Alice Springs.
Less a jukebox musical and more a dancefloor megamix with a few spoken words in between, Priscilla knows it's audience are there for a feel-good disco and delivers for them from the outset.
You won't be treated to an evening of thought-provoking emotional drama – but if you've booked your tickets that's almost certainly not what you're looking for anyway.
'Hot Stuff', 'It's Raining Men' and 'Shake Your Groove Thing' are just a handful of the nearly 30 songs packed into this production. The songs are irresistible and audiences are guaranteed to be dancing in the aisles by the end.
The staged musical is inspired by the Oscar-winning movie. The adaptation is light on plot and heavy on sequins. The charm of the motion picture is lost, and the glamour overtakes the grit, but there are still heartfelt moments.
Miles Western might not have the most elaborate costumes on stage but he does have the best lines as Bernadette.
Western not only brings a touch of class to proceedings but also gracefully nods to the drag acts of yore.Bernadette's "less is more" approach is indeed a little light relief from the excesses of the production itself.
His character is the one that doesn't just sail by with a cheap quip at a man in a dress – as a trans woman, there are significant layers which Western explores sensitively in his performance.
Daniel Fletcher's Bob milks every bit of empathy from his audience, offering a moving performance with real depth. He is a loveable misfit in the production, sticking out like a sore thumb with some delightful comedy along the way.
The Greek chorus 'Divas' (Claudia Kariuki, Aiesha Pease and Rosie Glossop) deliver the powerhouse disco ballads with gusto.
The whole production feels vastly scaled back from previous touring productions. There isn't really a 'wow' moment.
Nonetheless, audiences can't help but fall in love with this ridiculously over-the-top disco fest. Don't take it too seriously and you'll be hard pressed not to leave with a smile on your face.
Priscilla, Queen of the Desert at Theatre Royal, Glasgow until Saturday 6th November