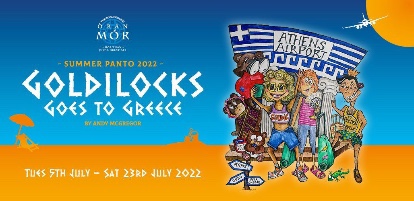 ⭐️⭐️⭐️⭐️
The summer might have arrived in the West End but as the temperature rises in Glasgow, Goldie and her maw are off to Greece for their holidays.
But Goldie is pursued through those departure gates by a bear she's frustrated by… sitting in his chair, sleeping in his bed and eating his porridge (yep, you've guessed it!).
When an eligible Prince appears in Greece looking for a lumber, his eyes are quickly fixed on a wee Weegie with golden locks. Then the chaos and capers really begin.
Rosie Graham does a fantastic turn as the doe-eyed Goldie – but she proves this principal girl isn't just stage dressing. For this Goldie has a fight in her – and some set of lungs for the big belts!
Fraser Boyle's Pat isn't kitted out in his typical festive extravagance – frankly, the stage wouldn't be big enough – but he brings his hilarious dame to Glasgow's West End in socks and sliders.
Boyle's patter with the audience is first class. It's a real treat to see him on a smaller stage but still on such top form.
As the irate bear, Rebekah Lumsden doesn't need to say a word to get the laughs in – her physical routines do it all for her. She brings a hilarious edge to the cuddly bear… and a few swear words too!
And completing the quartet, Ewan Somers takes on a totally different role to his usual pantomime schedule but does a stellar job as the silky voiced Prince. He's got eyes for Goldie – but watching her rebut his advances is too good.
Pantomime is an institution in Glasgow and Andy McGregor's script pays homage to that. It's politically charged and devilishly clever at turning a traditional story upside down.
The hour-long format naturally means some of the traditions are distilled in this potted pantomime but McGregor does a stellar job in keeping all the familiar bits in. It wouldn't be a panto without a songsheet, would it?!
Few things are as civilised as a summer pantomime with a pie in one hand and a beer in the other.
Spare the grease on that pie though – there's only one Greece on offer this summer!
Goldilocks Goes to Greece at Oran Mòr until Saturday 23rd July 2022