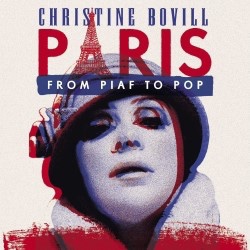 ⭐️⭐️⭐️⭐️⭐️
The Edinburgh Festival Fringe is a melting pot of culture, song and story. In this year's instalment of Christine Bovill's legendary Edinburgh turn, the spotlight is on Paris and its evolution of music from the post-war era to the present day.
It's impossible not to fall in love with this immersive French fantasy presented by a self-confessed Francophile.
Bovill's passion might now be her career but her effortless vocal comes as natural as the birds singing in the trees and a wit to rival the comics playing nearby. She is made to sing in French and her tangible passion makes the whole event seem effortless.
Things kick off with a stunning Piaf ballad – as all good shows should. Bovill then whips up the assembled with a rowdy session of familiar tunes over the next 90 minutes, occasionally settling the storm with a showstopping ballad or little nibble of history.
Paris is no passion project; it's a life's work, distilling song and story into a magical tonic for the senses.
It's a staggering gift that Bovill posesses – the ability to stop the world outside for an hour or so and really hold the attention of her audience.
The evening starts and ends with Piaf, for she was the gateway drug that got Bovill hooked as a teenager. For there would simply be no other way to do it.
A joyful tonic for the world outside the room, Paris: Piaf to Pop is the lighthouse in the storm that is the Edinburgh Festival Fringe.
For a brief escape from the troubles of the world, there can be no finer prescription than a healthy dose of Paris.
Christine Bovill's Paris: Piaf to Pop at the French Institute in Scotland until 28th August