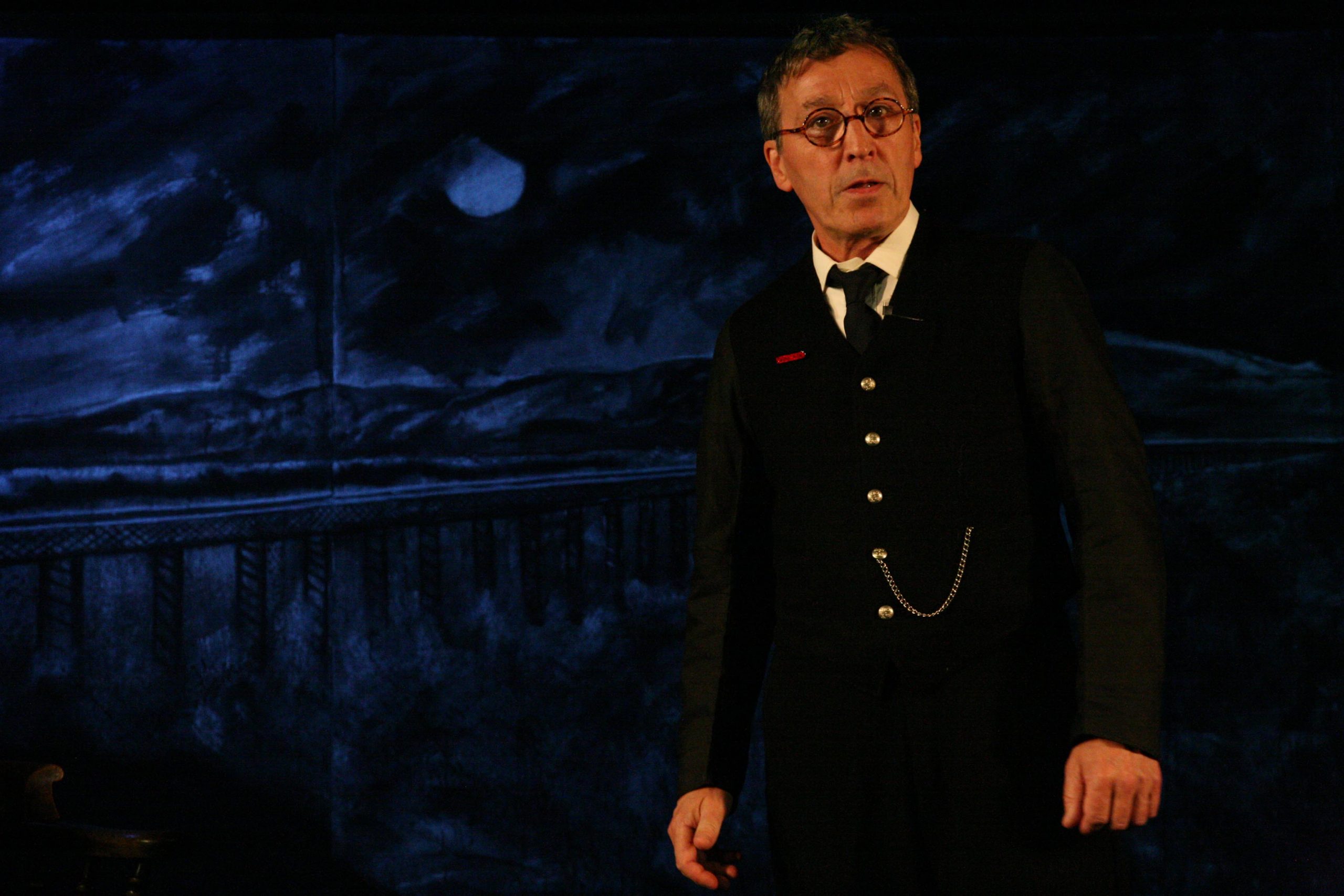 Just before the curtain lifted at Perth Theatre after 18 months in the dark, we spoke to Director Ken Alexander about the creative process and returning to Perth Theatre with The Signalman.
BT: Can you start by telling us a little bit about The Signalman?
KA: The Signalman is the brainchild of Tom McGovern, who stars in the show. He gave the idea to Peter Arnott, who then wrote the play. It tells the story of the signalman who let the last train onto the Tay Bridge on the night it collapsed. It's set 40 years on from the event, but when he eventually tells the story that's haunted him for four decades.
Although it's a monologue, Tom really takes you on the journey – and the one thing I wanted to do was to strip it down to let the story have the impact. We did work with a composer to add a soundscore to accompany the piece, which I hope just adds a little atmosphere to the drama.
BT: It's a bit of a bold choice to pick something so dark to open Perth Theatre after all this time. Is there a deeper meaning to picking The Signalman to open the season?
KA: It's all a bit of coincidence – it was supposed to be performed in the studio theatre and then COVID hit. When the time came to bring it back, it was more to make the play work financially – with social distancing measures all in place. But being in the Edwardian theatre really enhances the piece, so it's been very lucky!
BT: Your own training as a director began at Perth Theatre. How does it feel to open a new chapter after such a long absence?
KA: It's such a pleasure to be doing it and I couldn't be happier to be back at Perth Theatre. My own training as a director was under Joan Knight and then I came back for a few years as Artistic Director.
I've learned so much here so it feels like coming back full circle. In fact, when I came in to do the dress rehearsal I automatically went up to sit beside the lighting keyboard and suddenly realised it was something I had done hundreds of times. I thought of people like Joan and Simon Sewell who was our resident lighting tech at the time and had a bit of a moment when it felt real.
BT: The Signalman is also your first time working with Tom McGovern, despite both being based in Perth?
KA: Yes, two years ago when we first put the piece together was the first time we had collaborated. Tom is such a talented actor who brings so much to the table – in fact we've now got a kind of shorthand where we can communicate without actually saying anything.
All of us in the creative team feel such a strong connection to the show. It's been brilliant that we've been able to bring it back – especially after it being so successful the first time round.
BT: It must be a logistical nightmare to think about touring the show, but it seems like you're not keen on locking it away after this run…
KA: Something kind of unexpected has happened on that – we had been speaking to Perth about touring it, bolstered by the three CATS awards we won, but it didn't seem like it was going to be possible. And now, when we were thinking of touring it next year, it was put to us that we could actually tour it this year – including three nights at the King's Theatre in Edinburgh!
Tom's perform eve begins in a very small and considered way but then reels you in – so it'll be interesting to see how it'll work in these vast theatres!
We're also in talks with Aberdeen and Inverness about dates – and might even be able to expand that into next year.
BT: It must be strange touring round Scotland – it's such a small place, so you're bound to come across relatives of those who died in the Tay Bridge Rail disaster.
KA: It is fascinating – Tom says that there are often people that will come up to say that they had relatives involved in the disaster, so he takes the whole thing very seriously.
As part of his research, Tom went to see the signal box itself. And we keep discovering little bits of the story along the way.
Not many people know that the commercial aspect was prioritised way above the human cost. The train itself was fished out of the water, repaired and put back into service. It was morbidly nicknamed 'The Diver'. Over half the bodies were never recovered from the river, and the inquiry itself actually started the day before the first body was pulled form the river.
BT: It seems that Tom has taken on part of the guilt of his character?
KA: Certainly, Tom has even been to the graves of some of the victims of the disaster. Although the signalman was absolved of guilt, he carried it all his life – at least in Peter's version of the story.
BT: We almost don't want to mention the pandemic, but how much does it mean to be back making theatre?
KA: Aside from being deprived of a living for a year and a half, it's just a joy to be back.
With The Signalman in particular, you could watch it as a movie or a stream – but it just doesn't capture the mood of a live audience.
BT: Perth Theatre is signed up to the See It Safely campaign. As audiences start to return to theatres, do you think doing it safely will be key to its success?
KA: Definitely – I think rebuilding confidence is definitely an important part of getting audiences back. We've got a few performances that are actually socially distanced, which should be a great option for those a little wary of coming out to full houses.
BT: Finally, pantomime has been such a huge part of your own career and something you're so passionate about. What are your panto plans for 2021?
KA: I've actually signed up for two panto's this year! I'm back at the Gaiety this year, writing with Fraser Boyle. Last year we did a digital piece and this year, we we're still not sure what would be allowed within the rules.
The options were a full panto or a slimmed-down one act show of about an hour with a slightly smaller cast. We opted for the latter – and because it wasn't the traditional two-act affair, we have created a whole new panto story called Jamie and the Unicorn.
It's about a young girl who forms a bond with a unicorn that she sees in the Alloway Forest. It's got all the stock panto characters – baddie, goodie, principal boy and girl and a chorus – and that runs up until Christmas Eve.
And then after that, I'm doing Jack and the Beanstalk with Christopher Biggins at the Orchard Theatre in Dartford. I think it's the fifth time I've worked with Christopher over the years!
The Signalman at Perth Theatre until 2 October