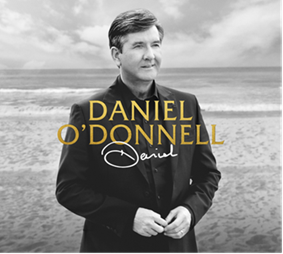 Daniel O'Donnell, whose recording career has now spanned 35 years, releases a brand-new studio album Daniel on 16 October 2020 on the DMGTV label. 
Available on CD, Vinyl LP as well as to download/stream, Daniel features 13 tracks of new recordings produced by Nigel Wright who has been the producer for many of the TV talent shows and worked with Andrew Lloyd Webber on a number of his musicals/films, including Phantom Of The Opera and Evita, the latter with Madonna. 
Nigel was also a member of '80s Jazz/Funk international super-group Shakatak.  
The Donegal based singer who is one of the most prolific and successful recording artists in the UK charts, broke his own world record in 2019 by becoming the first recording artist to chart at least one new album each year in the Artist Albums' chart for 32 consecutive years.
With Daniel's wide-ranging vocal performance and sprinkling of his very own stardust, Daniel features a track listing of contemporary and evergreen songs, amongst which is Remember Me, a duet with his wife Majella O'Donnell. Daniel originally recorded the track for his 2010 Christmas album O Holy Night but wanted to record a new version of it with producer Nigel Wright which worked very well.
However, after the album was completed, he and Majella were asked to appear on RTE's The Late Late Show and perform (with their band), during lockdown. Their performance went down an absolute storm and seeing the reaction, Daniel decided that he wanted to re-record the song again with Majella as he felt the live performance had worked so well. So, they reduced the instrumentation and opted for a very simple and beautiful arrangement.  
Other highlights include Memories Are Made Of This made famous by Dean Martin, Daniel's version of Ed Sheeran's Perfect; Forever Young written by American folk legend Pete Seeger and recorded previously by Bob Dylan and 2015 'X' Factor winner Louise Johnson, Love Can Build A Bridge which was originally released by The Judds and covered Cher, Chrissie Hynde, Neneh Cherry with Eric Clapton, Come What May, the anthemic 1972 Eurovision Song Contest winner, Magic Moments, a huge hit for Perry Como, Dance The Night Away, Take Good Care Of My Baby by the legendary Bobby Vee, Our Special Absent Friends, Try To Remember, Smile, and Leaving On A Jet Plane, written by John Denver and which was a huge hit for American group Peter, Paul and Mary.
During his career, in the United Kingdom Daniel has amassed thirty-nine Top 40 albums, including seventeen Top 10 albums, with fifteen of them this Century, a feat not achieved by any other recording artist.