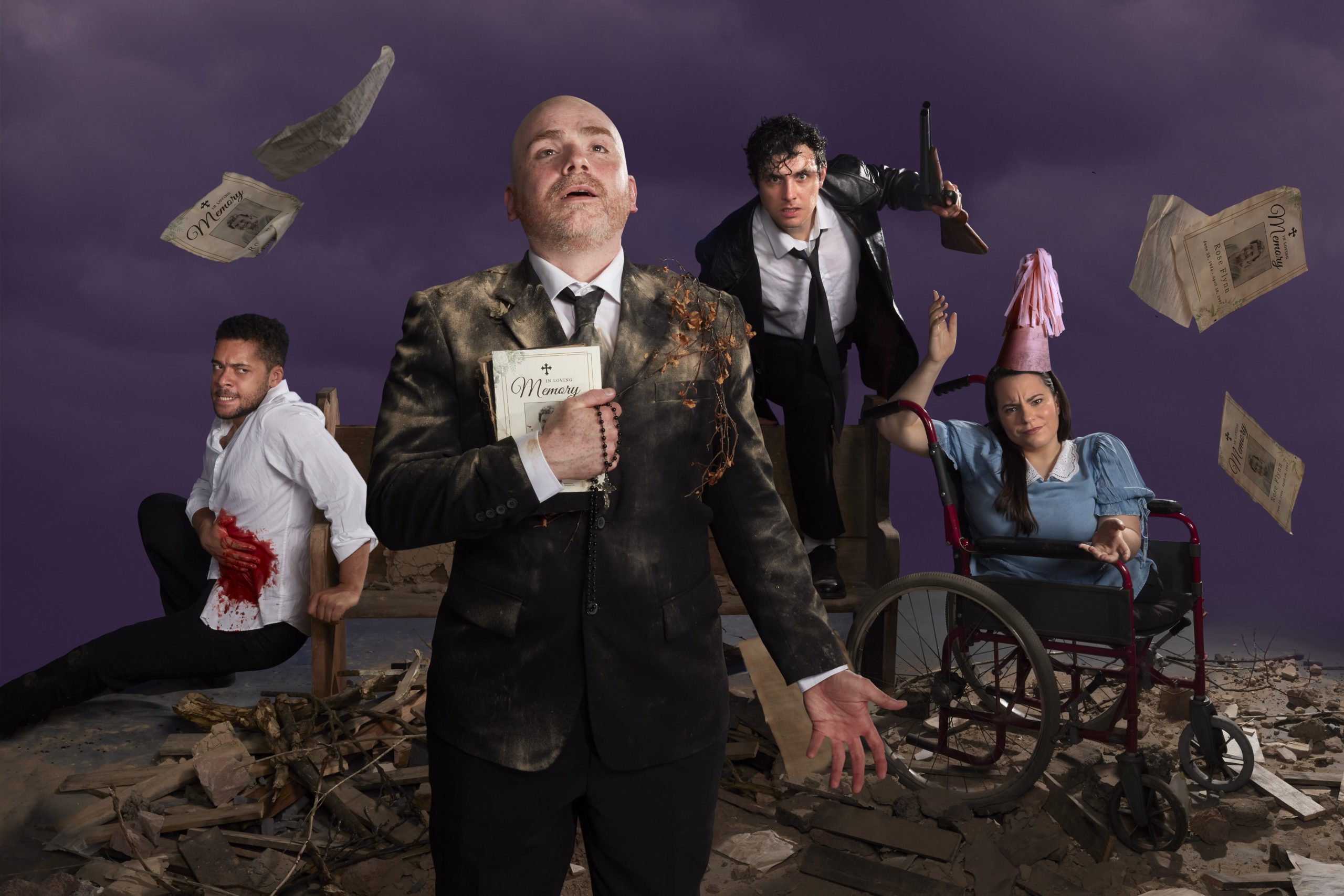 ⭐️⭐️⭐️⭐️⭐️
More than twenty years since the cult classic film, Orphans has been adapted for the stage by the National Theatre for Scotland in a joyous celebration of the fragility of humanity.
It's the night before their mother's funeral as four dysfunctional siblings pass the hours before finality hits. While Thomas (Robert Florence) keeps watch in the Chapel, his family split up and end embroiled in a combination of crime, violence and freedom – with everyone paying for the consequences.
Douglas Maxwell's adaptation brings an immense amount of light in the first Act, which cheerily bounces along with plenty of laughter and joviality. Returning from the interval, a much darker and more ominous evening unfolds, before finishing with a life-affirming roundup that brings these fraught four together.
Orphans feels more a play with songs than a musical, such is the height of the drama, yet each of Roddy Hart and Tommy Reilly's genius melodies is catchier than the last. From the brash 'A Storm is Coming' to the tragically beautiful 'I Want My Mammy' the accompanying album comes with warnings of extreme language – but should also mention just how catchy these earworms are.
This stellar cast are led by the four Flynn siblings but the production is a celebration of every single person of the fifteen cast members on stage.
Amy Conachan's Shelia is desperate to break free from her family chains and others' views about her own ability. Conachan delivers a punchy 'Ram It' as she breaks those confines – and shows her immense ability in a power anthem, 'One of Us'.
Robert Florence makes his musical theatre debut look like a walk in the park. His effortless 'Safe With You' would bring a tear to a glass eye and his performance is delicate while wringing the humour from even the darkest moments.
Each of the ensemble their own turn to shine and each takes up the baton and doesn't miss. Paul McCole's riotous expletive-filled masterpiece 'Every Cunt Should Love Every Cunt' closes Act I in a raucous rabble that's sure to put a smile on anyone's face.
Louise McCarthy steals the limelight multiple times across the evening, but particularly so as she opens Act II in full voice with 'Time is Time'.
Betty Valencia soars from glakit papergirl to estranged wife with ridiculous ease and Patrica Panther's heartwarming 'Right Where You Belong' could be in the running for a new national anthem for Scotland.
Martin Quinn is fresh from stealing the show in Moorcroft at Glasgow's Tron Theatre. Once again, he manages to divert audience attention to himself whenever he's on stage.
Orphans doesn't feel like it should work on paper. It's a dark mirror on the family relationship, death and our fragility – yet it manages to entertain by the bucketload and feels like a careful capture of the zeitgeist around us right now, more than twenty years on from the film.
Despite its three hour running time, every second is a joy to experience. From Emily James' stunning red sandstone set, which really captures Glasgow at its best and worst, to Vicki Manderson's movement, this piece has been considered and fussed upon from top to toe.
It's charming, frustrating, riotously funny and deeply moving.
Orphans is fast-cementing itself as the theatrical event of the year, such is its immense scale and appeal. It's an unforgettable night that you can't help but fall in love with.
Orphans at SEC Armadillo, Glasgow until 9th April 2022, then touring
Image: Mihaela Bodlovic/Peter Dibdin