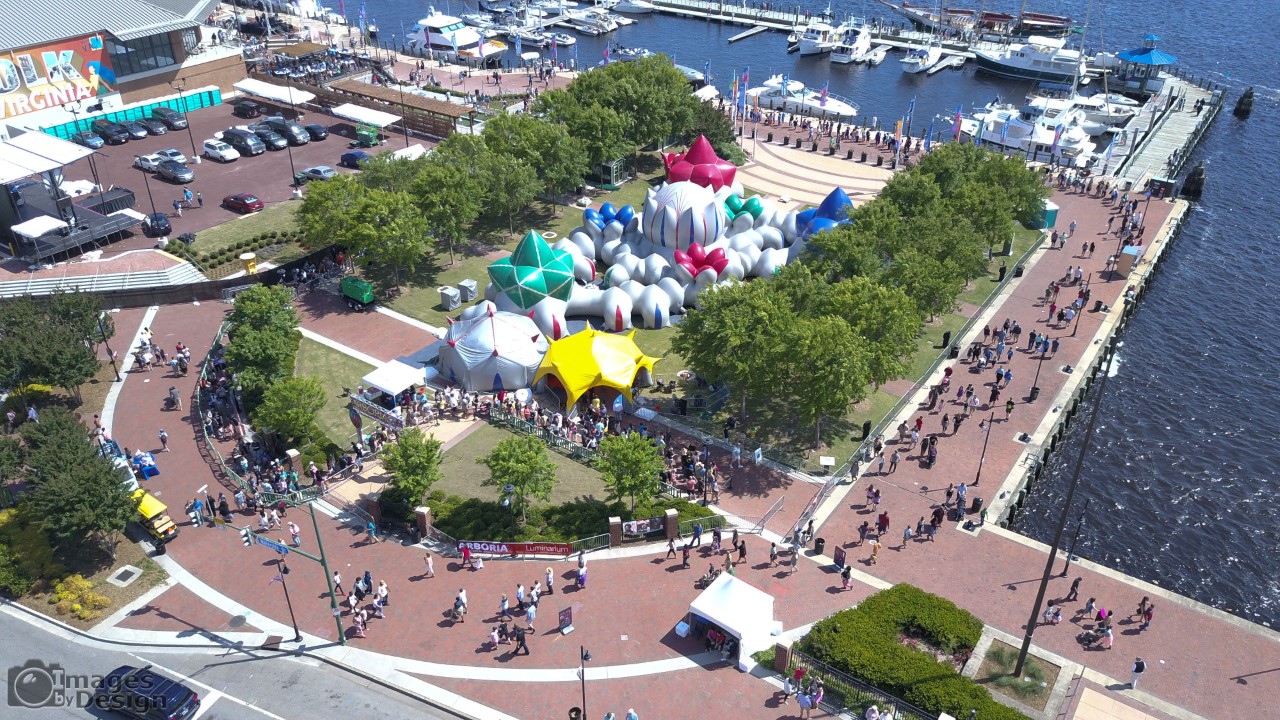 A giant inflatable Luminarium sculpture will be installed outside the Beacon Arts Centre this summer as part of an arts and culture weekend during Inverclyde's Meliora Festival.
The Luminarium will allow visitors to lose themselves as they journey through winding paths and domes of light and colour, accompanied by calming sounds and music. 
The structure, designed by Architects of Air founder Alan Parkinson, will be at the Beacon from Friday, June 17, to Sunday, June 19, as the venue hosts a weekend of Meliora Festival events.
The Beacon will be the first location to use Architects of Air's new Aboria II structure.
Meliora Festival aims to bring communities together following the Covid pandemic, and its name is inspired by the motto on Inverclyde's crest – 'Meliora semper prospicimus' – which means to look forward to better things.
It also incorporates this year's Clyde Comedy Festival, with big name acts including Elaine C Smith and Ed Byrne performing at the Beacon.
Guests will be treated to an evening of 'Chattin' Up Elaine C Smith', with further acts still to be announced.
 
Meliora Festival is designed to offer fun, entertainment and excitement and make people feel better after the past two years.
The Beacon's weekend will see Scottish Opera performances, aerial dance and circus skills workshops taking place, as well as street theatre productions, and music from local bands including The Laurettes.
There will also be magic shows, food and drink stalls and Inverclyde Libraries staff will hold fun Book Bug story-telling sessions inside the Luminarium for young audiences. 
The weekend coincides with the 75th anniversary of the Waverley paddle steamer's maiden voyage.
Visitors can sail 'doon the watter' from Glasgow to Greenock, arriving at Custom House Quay outside the Beacon.
Other events taking place during Meliora Festival, which runs across weekends in May and June, include a Pipeband Championship, a 5k obstacle course called Inverclyde Leisure Active Warrior, and the Gourock Highland Games.
 
Pauline Kane, director of Beacon Arts Centre, said: 
"Meliora Festival promises to be truly special summer event for Inverclyde and we are delighted to be hosting an entertaining and fun-filled arts and culture weekend for all the family as part of it.
"The centrepiece of the weekend will be our Luminarium installation, which will allow people to enjoy a magical and unique experience as they spend time inside its labyrinth of colour and light.
"Our packed programme also includes Scottish Opera, visual arts, theatre performances and storytelling and sensory events for children.
"And we are incredibly excited to welcome top names like Elaine C Smith and Ed Byrne to the Beacon stage as the Clyde Comedy Festival returns."