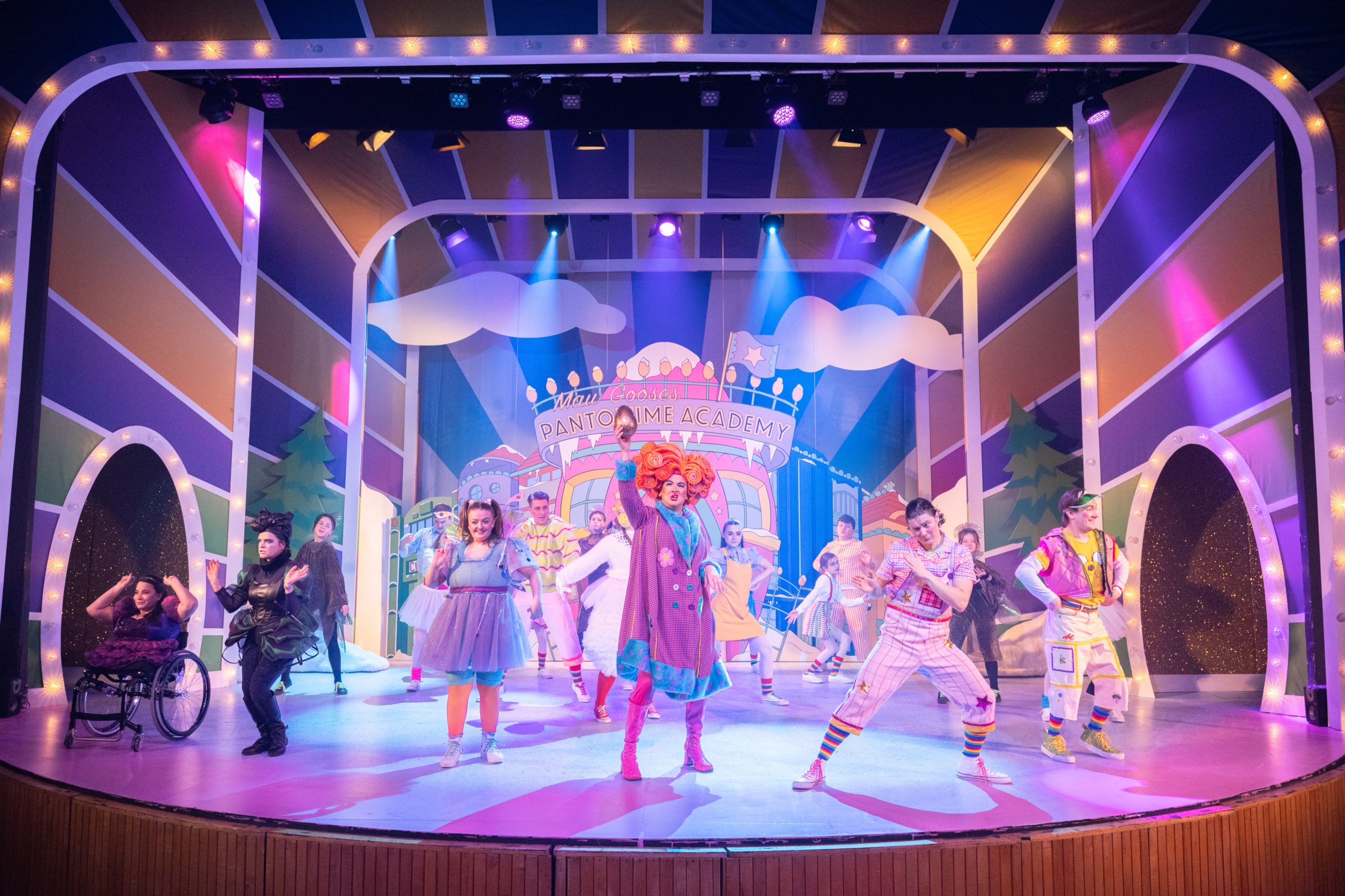 ⭐️⭐️⭐️⭐️
The pantosphere has a new Dame in town as Stirling's Macrobert Arts Centre catapults Brian James O'Sullivan to stratospheric heights in its loving – if a little wandered – take on a panto classic.
In writer Johnny McKnight's alternative universe, Stirling Stella is in crisis. Maw Goose's panto academy has to close as the bills mount up.
With a bit of help from the in-training Fairy Liqui-Tap, Lucy the Goosie lays save-the-day golden eggs… but will her own vanity see Maw Goose sell Lucy for the glamour of eternal youth?
Elevating this panto to new heights is Brian James O'Sullivan – aka TikTok's Brido Hingwy. He's no stranger to the stage, making his debut at the London Palladium in Oliver!, but brings himself to a whole new audience after his viral social media videos of doctor's receptionist Janice.
O'Sullivan bursts out to the Bridge of Allan crowd in an emphatic opening number that sets the tone for his giant of a performance across this two hour pantothon.
He's got pins Allan Stewart would have green eyes for and a quick wit that rivals the sharpest of comics. His patter makes up for a script that doesn't quite take off, despite a lot of potential.
O'Sullivan earns a star all for himself with a brilliant performance that will have audiences talking.
Kids will love Kyle Gardiner's daft Gary and Amy Conachan's evil-shunning Jill.
The Macbob includes its community like few other theatres in Scotland with a brilliantly talented youth cast that aren't just on stage – they're mic'd up and part of the show.
The energetic team of youngsters can't be faulted. They bring a festive buzz that panto is all about.
And bringing in the boos is Macrobert stalwart Helen McAlpine as the evil Narcissa. Her command of the audience shakes up a quiet Sunday matinee, wringing them of any hiss and boo they have.
The whole affair looks brilliant, with stunning costumes by Alisa Kalyanova that perfectly complement a dazzling set, designed by Fraser Lappin.
Celebrating its community and putting its young talent at the spotlight, ably orchestrated by a brilliant Dame, this Panto is sure to fill you with festive sparkles as the cold nights draw in.
Maw Goose at Macrobert Arts Centre until Saturday 31st December 2022