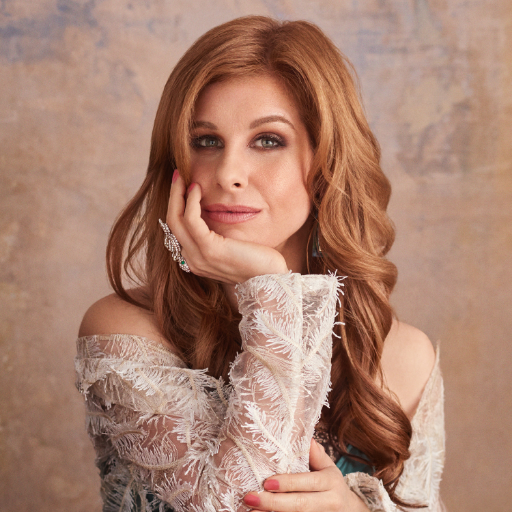 Singing sensation Cassidy Janson is no stranger to treading the boards on the West End, most recently as Anne Hathaway in new musical & Juliet. She caught up with Braw Theatre to chat about famous faces, corpsing in rehearsals and inclusivity in theatre.
Hi Cassidy! Could you tell us a little bit about 'Leave A Light On' and how you came to be involved in the project?

Jamie Lambert from Lambert Jackson Productions came up with the idea and he approached my agent to see if I would be interested.

The idea is to keep theatre audiences entertained while the theatres themselves are in the dark – as well as allowing artists to make some money to get us through this difficult time.

I was totally honoured to be asked to be involved and delighted to take part. We're entertainers who have been in the business a long time, so we're used to adapting to get by!

We wondered if your adaptability is why you've been as successful as you have been so far?

Probably that is true – I was speaking to a mate the other day about the industry and he asked if I had ever thought about giving up. It's funny because I have asked myself the same question and I don't honestly think I could.

I don't think I'm cut out to work a regular job with a stable income and regular hours! It was never really a choice for me. Even if I wasn't earning much money, I think I would always have to do this. I live my life by singing, acting and a little bit of shimmying – and making people laugh.

& Juliet is actually great for me because I started out doing comedy above the pubs and clubs and it's great to come full-circle and be able to go back to making people laugh, which I just love.

Right now, it seems that we need a laugh more than ever!

Well exactly, and I really do think that when we're out of [the coronavirus pandemic], one of the first things to open back up will be theatres, because people really need to be entertained in dark times.

I was reading that during the Second World War, Winston Churchill opened up the theatres because morale was so low. What are we fighting for if not the entertainment that we all enjoy?

The 'Leave A Light On' concerts were originally supposed to be streamed from The Theatre Cafe in London, but in light of the recent measures to keep us all safe, the gig is now coming from your living room. Do you find it strange to open up your house to the world?
It'll be really odd! I have a tiny little cottage so I'm currently trying how to make it look presentable and at the same time make sure I don't annoy the neighbours too much with the noise!

I'm going to be doing a bit of singing and a bit of chat – because I love a bit of chat!

On the subject of chat… You've built up a loyal following on social media with your chats on Instagram – often in a West Country accent!

*in West Country accent* I don't know where I get that from… I don't even have family there, but I just loves doing that accent, I do.

You have a huge back catalogue to choose from – your solo writing, your West End roles and your work with Leading Ladies. How do you choose what to sing for an intimate concert like this?

Initially, we had discussed having live musicians and some tech people involved, but in light of us all staying apart for everyone's safety, I told the team I have loads of backing tracks and plenty of material to choose from.

I'm probably going to include a few numbers from Beautiful: The Carole King Musical because that show was so important to me, and I think I'll have to avoid singing from & Juliet because I have a pretty belting solo number and I'm sure my neighbours would be banging at the windows…

I'll be doing a few from the album and keep things quite light!

In light of everyone spending a lot more time at home, do you think you'll be able to do more of your own writing while we're staying in?

Oh definitely – I'm sure there will be Skype meetings and Skype writing sessions and all sorts. Times like these – and the Leave A Light On concerts themselves – show that people will be hugely creative.

Looking a bit more broadly at your career, you've worked alongside a pretty impressive group of people. Do you have a favourite star that you've worked with?

The first person that comes to my head is Michael Ball. We knew each other for about a year before Chess: The Musical but from the first day of rehearsals, we absolutely hit it off.

I always have to be quite careful with my wacky sense of humour, but Michael can get away with it because he's Michael Ball! So it was so nice to be with someone who just got my sense of humour.

I'm very professional when I'm rehearsing normally, but I don't think there was a single scene that I didn't corpse in with him until we actually had an audience in. It was one of the most laughter-filled shows I've ever done.

We first saw you treading the boards in Beautiful: The Carole King Musical in the West End a few years ago, and you often talk about how important that show was to your career. Can you tell us a little more about your link with the show?

It's a big deal for me, this show. I hadn't actually worked in the West End for a number of years for a range of reasons, so it was great to have a show where I didn't have to augment myself at all for the role.

The show itself was brilliant fun – on a personal level, I just loved doing it. The pleasure I got from singing those songs, I can never tell anyone. It was just the best. And on other levels, it was very social; it was a great big company and lots of friends came to see me which was just amazing.

Then, on a separate side, other things happened to me as a result of that show. Carole King herself came to see me in the show and gave me the most incredible public quote that I shall use forever. It's a real dream for the person you play on stage to say such kind words.

As well as her generosity in words, she gave me an unreleased song of hers for my album and I was then asked to do Leading Ladies with Beverly Knight and Amber Riley because I did the show. It was a bit of a knock-on effect – I'm sure it's why I then got the role of Florence in Chess – and it really did just open a lot of doors for me.

I'll forever be grateful to that show for so many reasons. I don't really miss things but I could have done that show for another year.

Are you the kind of actor that would never revisit a role you've previously done?

I worry that I would be the actor in a company that sits and says "oh, this is how we used to do this or that…" so unless there was a really exceptional reason, I don't think I could revisit a show.

Obviously, in this business, you never say never but I don't think it would be a good thing for anyone else in a cast!

Do you have any secret musical confessions that you can tell us about?

I will let you into one little secret… I've never seen Blood Brothers! I know it's such an iconic musical but it must have just passed me by!
The project you're working on just now – & Juliet – has amassed a huge, loyal fanbase who go back to see the show five, ten times and more. What is the secret of the show's success?

I have to say – and I know I'm biased – but it's such a good show. The team who put it together are utter geniuses. When a group of people approach a project without any egos, it allows the best ideas and the best concepts to come to the front.

The show itself has so much heart and the company are so committed to keeping the show on the run. I've never known a production where actors are so committed to not calling in sick!

Max Martin's incredible pop songs have been reimagined too and they are just extraordinary. It makes no logical sense that these songs serve the plot but they do!

I remember doing a workshop for the show a few years ago and thinking 'these are exactly the kind of things I would say – this is made for me'. The script is so witty and dry and clever.

And it certainly pays off in the audience reaction too…

I think the beauty of & Juliet is its ability to ensure that no one in that theatre feels alienated. You can be gay, straight, transgender, a young couple, an old couple, whatever you are – the show will have something for you. It leaves nobody in the dark.

It's also so clever – even though it looks like it could be fluffy, it's not fluff. Every laugh is grounded, it's earned. It also means the big emotional moments pay off because people actually get to identify with the characters.