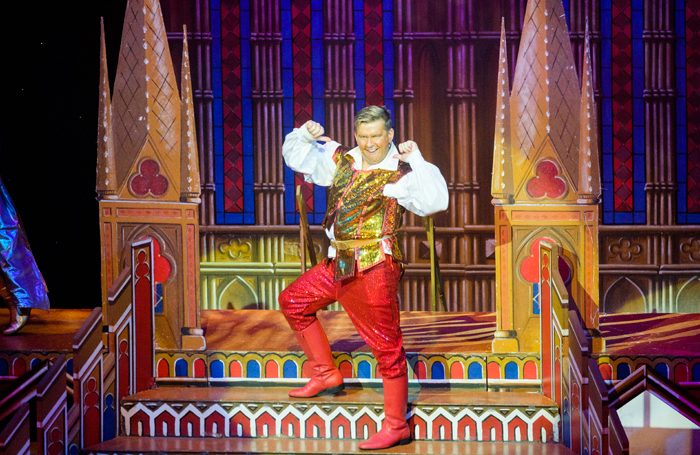 It's panto time again… oh, yes it is!
But while this is firmly my most favourite time of the year, the festive Grinches are never far away – those who turn their nose up at theatres most accessible (and enjoyable) form.
In an act of defiance to the Noel-naysayers, I'm dedicating this month exclusively to a blind adoration for pantomime. 
Of course, pantomime is often the first experience of theatre for most people. It's where the festive magic captures audiences wee and not-so-wee alike in family tales with music, costumes and sets to dazzle.
A really good panto reflects the community that it nestles at the heart of, like a few years ago in Glasgow when the King's Theatre had a ceilidh in Dunoon – complete with the Slosh. 
The celebration of our cultural heritage is so important. The shoes of Rikki Fulton, Stanley Baxter and Jimmy Logan might never be filled, but their genius is oft-revived in a Scottish panto. 
Widow Twankey strides onto the stage, asking an unsuspecting Wishes Washee "Comfy?" He answers deadpan – "Glasgow" and the audience erupts. 
So often, we know the punch lines but it's the familiarity that tickles us. The music and dance combined with a sprinkle of nostalgia is the perfect panto mix. 
So where should you go to see a fantastic show this year? The Macrobert Arts Centre in Stirling boasts panto royalty in writer-director-performer Johnny McKnight. He is brash, rowdy and full of fun.
Beauty and the Beast Eden Court in Inverness boasts Steven Wren as writer and Dame, a razor-sharp scriptwriter who wants to reflect tradition as well as shaking up the misconceptions of panto. 
Glasgow's Tron shakes things up to a whole new level, with a long-overdue all-female casting. Cinderfella has a cast list packed with talent, including Jo Freer and ScotSquad's Sally Reid.
The King's in Edinburgh welcomes back Andy Gray in Goldilocks and the Three Bears, reuniting the holy trinity of Gray, Grant Stott and the inimitable Allan Stewart. 
Another King's – this time in Glasgow – sees dream team Johnny Mac and Elaine C Smith back for another year of fun. Both King's pantos won Pantomime of the Year at the star-studded Great British Panto Awards last year.
Save up all your boos and hisses, prepare to clap and cheer and laugh. In these turbulent times, the ability to escape to our childhoods and adventure through magical lands is just the tonic.
Originally published in The Scots Independent newspaper