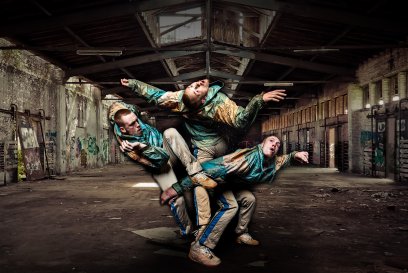 When Gary Clarke Company bring Wasteland to Macrobert Arts Centre next week (19 and 20 March) four amateur performers will take to the stage as part of the cast – Paul Docherty (Stirling), George Reid (Clackmannan), Jim Thornton (Tillicoultry) and Paul Thomson (Avonbridge).
Set in 1994, Wasteland focuses on what happened when hundreds of coal miners hung up their pit boots as Grimethorpe Colliery closed and its working-class community was destroyed, leaving miners with no jobs and their children with no futures.
Paul, George, Jim and Paul all responded to the call out from Gary Clarke Company and Macrobert Arts Centre looking for people aged 40 and over with experience of group/choir singing to play ex-coal miners, inspired by their own life experiences and links to the coal industry to get involved.

Paul Docherty's Dad worked in one of Scotland's last coal-fired power stations and his father-in-law was a miner in Barnsley from age 15. George Reid is a lifelong trade unionist who now lives in Clackmannan where lots of his friends and neighbours are ex-miners.
Jim Thornton is originally from West Yorkshire where both his Dad and his Brother worked in the pits, so the miners' strike and subsequent pit closures deeply affected his family.
Paul Thomson lived in West Lothian during the miners' strike, where there was a long history of both coal and shale mining, and was encouraged to sign up by one of his friends who played a Pit Man for the Wasteland performances at Dundee Rep.
Created to mark the 25th anniversary of the demolition of Grimethorpe Colliery in South Yorkshire Wasteland is a thrilling yet deeply touching production and the sequel to the multi-award-winning Coal.
In 1994 Gary Clarke joined family, friends and neighbours to witness the downfall of Grimethorpe Colliery, an act of ruination that not only marked another nail in the coffin of Britain's mining industry, but also added to the destruction of the working-class community that surrounded it.
Wasteland looks at how two different generations coped in this turbulent era of radical upheaval as industrial Britain fell and a new subculture emerged.
As one generation grinds exhaustedly to a halt, the next generation heads into the illegal rave scene of 1990s Britain where derelict warehouses and abandoned work-spaces became home for a new community of music and dance.
Tickets for Wasteland on Thu 19 & Fri 20 Mar at 7.30pm are on sale now – £13.50 / £11.50 Conc / £6.50 Students – from macrobertartscentre.org or by calling 01786 466 666.