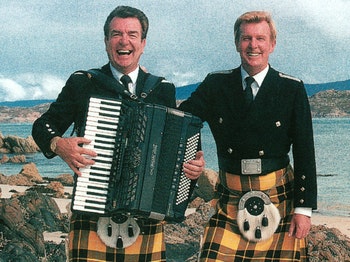 The sad passing of Tom Alexander last month prompted an outpouring of love and affection, not only for the man himself but for all that his career represented.

I have no shame in outing myself as a fan of The Alexander Brothers. An eclectic music taste and a twee Scottish granny might be to blame, but it's impossible not to take pleasure from the duo's bouncy take on the classics.

The great spirit of the duo is their ability not to care what others thought of them. Even in the 1990s, when tastes had moved on from the White Heather Club days of traditional Scottish music complete with kilts and a plate of haggis.

This tartan-clad shortbread tin version of Scotland was ridiculed as a cheap and tacky take on a bygone era, but Tom and Jack thought otherwise. They smiled through the critics and delivering an evening of jaunty traditional song with as much energy in the new millennium as they did in the 1960s.

The pair were also able to melt the coldest of hearts with their biggest hit, "Nobody's Child". Still a firm favourite on the Scottish and Irish music scene by singers like Dominic Kirwan.

It's a testament to the appeal of the duo – and their own drive – that the pair only decided to call time on their act when Jack forgot a lyric on stage.

Despite a few small gigs – often for charity – the duo did indeed gave up the game in 2012, with Jack sadly passing the following year.

However, as staples of the Hogmanay schedule over the decades, they remain familiar voices and surely shall continue to do so for years to come.

The Scottish variety scene still lives on, though a little more subtle in its impact these days. Greats like John Carmichael and Alistair McDonald still manage to pack theatres and halls across Scotland, as well as exporting their talents to the huge demand in America, Canada and beyond.

West of Scotland comedy pairing Johnny Mac and Liam Dolan revived the Francie and Josie sketchbook a few years ago, breathing new life into the traditional Scottish variety programme.

They too now fill halls with the nostalgia of old routines that are so treasured. There is still clearly a demand for the old routines and the fact that the scene is able to continue due to the tireless efforts of Tom Alexander, and indeed his brother Jack.

Originally published in the Scots Independent newspaper