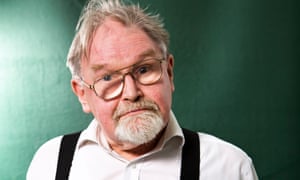 Alasdair Gray is one of Scotland's best loved creatives. His passing on 29th December last year prompted an outpouring of sadness and touching tributes from people across Scotland and the world.
He enjoyed the favour of the great and the good, from the First Minister to university professors, creatives and students alike.
Gray's humble roots in Riddrie cemented his socialist values – one which clearly inspired his works.
He was a strong supporter of an independent Scotland, penning the phrase "Work as if you live in the early days of a better nation" – becoming synonymous with his nation's opposition to Thatcher and later explicitly with the Scottish independence movement. 
His pamphlets were equally considered in content as they were by design. His work is instantly recognisable, and his illustration of the Sunday Herald front page in 2014, when the paper came out in support of Scottish independence, is surely one of his most treasured modern works. 
Of course, his 1981 novel Lanark sparked a flame within the Scottish literacy scene that has continued to burn bright for decades since. This unique – even challenging – style of writing became a must-read on school reading lists and is still tackled by those brave enough to make sense of the strange and fantastic world he describes.
Most creatives would be delighted to be noted for just one string in their bow, but Gray was not only an author. His art was as much of an appendix to his written word as it was able to stand on its own. 
The weaving of Gray's text and illustration was simply magical. What was surely nothing more than scribbles to the man himself offered a little insight into his mind. 
Alistair Gray seemed to have the ability to see in technicolour when the word around him was grey. Not only could he see the colour, he translated this for thousands – if not more – of other people for their pleasure.
Walking into the iconic Oran Mor venue in Glasgow, you are greeted with a mural painted by the artist. Just down the road at Hillhead station in Glasgow's West End, the creative continues to stop commuting eyes to gaze at his mural of "all kinds of folk". 
This is, in many ways, the best tribute he could have asked for. His work is a living, breathing part of his home city. 
He is now as much a part of the fabric of Glasgow as the river that runs through it. Gray was able to capture the dear green place in a way that an artist born outside would be decried. 
He was bold and fierce at the same time as being shy and retiring. This strange marriage informed his quirky works, both on the canvas and on paper. 
His generosity didn't stop with his works; Twitter was flooded with messages about his personal generosity in the wake of his death. From those who had hoped for a book to be signed and ended up with a personal portrait to students without accommodation who he opened up the doors of his studio to, it's clear that Gray's generosity knew no bounds. 
He was one of Glasgow's greats. Rest in Peace.
Originally published in The Scots Independent newspaper