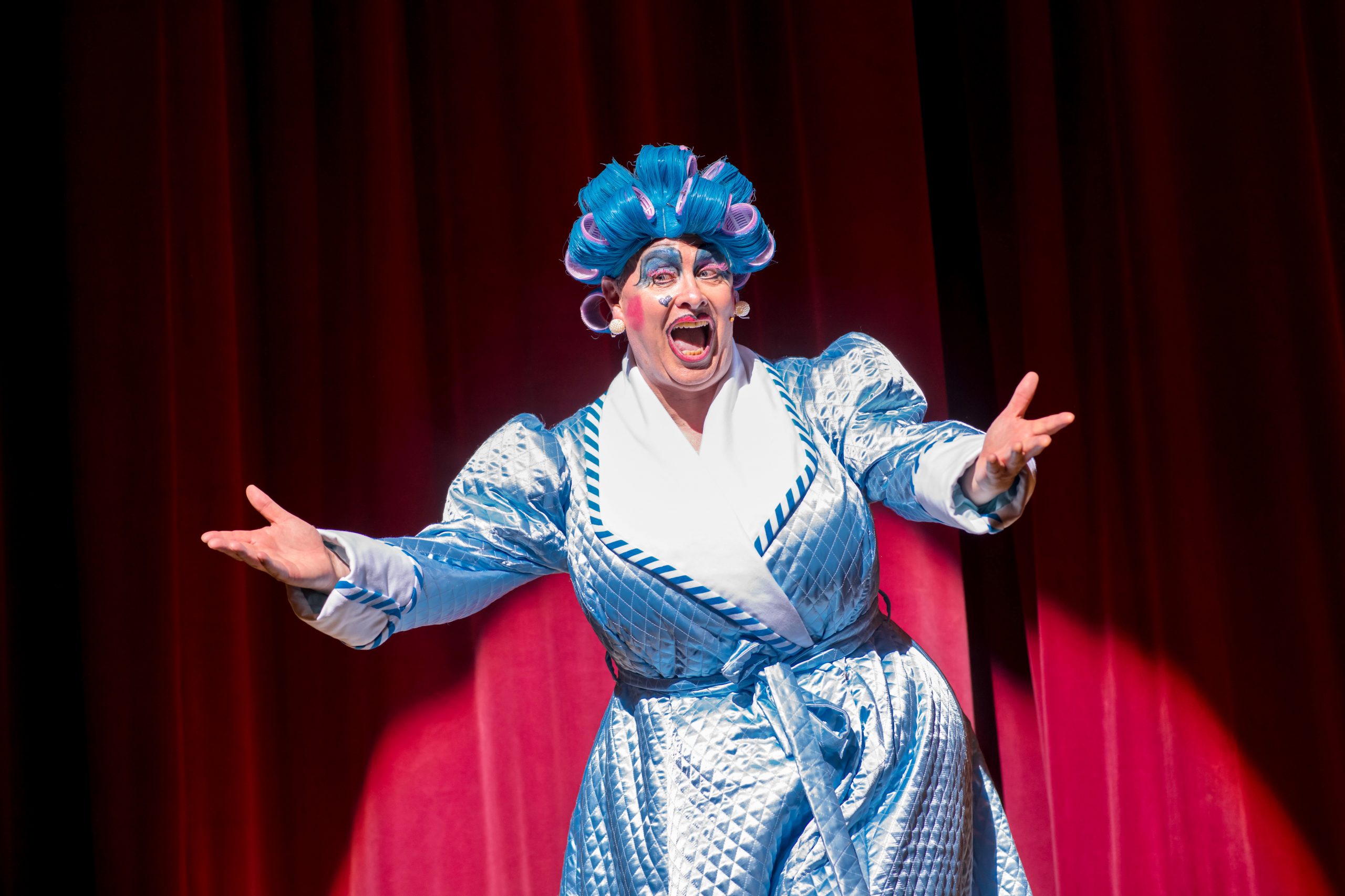 Perth Theatre's panto star Barrie Hunter spoke to Braw Theatre in the middle of the run of Oh Yes We Are! A Quest For Long Lost Light And Laughter – a virtual panto-inspired adventure by Perth Theatre. 
Can you tell us a little bit about this year's show?
Originally, the show was planned as a promenade piece – walking audiences through the venue, as well as having an online stream in tandem. With the latest round of COVID restrictions taking Perth to Tier 3, we put all our eggs in one basket and went fully online.
It's quite a technical piece – we do still keep the feel of walking through the building, with a guide taking the audience through the show and we all have our own cameras set up activated by our voices.
There's a lot going on behind the scenes – but it seems to be working! We're just hoping it holds together till Christmas Eve.
Was the jump to fully online shows a stressful experience?
One of my fears was that because I have no experience on the tech front, I had to leave that to the hands of the Zoom gurus – which wasn't good for my own control freakery!
We all had to hold our breaths a little to see if it would all come together, but we are really happy with how it's turned out.
Logistically, we know just how difficult it can be to put this kind of show together – but how difficult was it to write a pantomime without an audience?
It was pretty difficult – if we had more notice of the show being fully online, I would have wanted to write a bit more material tailored to the virtual format.
We also had to do a bit of reshuffling with scenes and songs to make sure it worked well online. I remember vividly coming home from a rehearsal and working right into the night to make it work more for the online audience.
It's only the second pantomime that I've written in its entirety and there are definitely moments that you would go back to change or do differently, but with the online format, I've been forced to temper my tweaking because everything is programmed to within an inch of its life.
You've mentioned the horrible year that we have had – how does it feel to be bringing pantomime to audiences at a time when we need it most?
It means absolutely everything – and I know so many people are doing some virtual offerings too – but I am so delighted that we have been able to have a live performance that includes a live dialogue with the audience.
And for Perth Theatre to be able to offer work for freelancers means a huge amount too. So many people have had such lean times during lockdown, so for actors, technicians and creatives to be working at this time of the year is a huge bonus for us all.
You mentioned the interactive part of the show – was there any discussion of doing a recorded show rather than a fully live event?
There was never really any discussion about it actually. From the very outset, we wanted to offer a live experience that people could get involved in. 
There were discussions along the way about making certain effects work – but these would only ever have been pre-recorded sections that would get slotted in. In the end, we were able to make things work much more smoothly if it was all live and only have a few little tricks along the way!
You'd normally have people from all over descending on Perth for the show… have you been able to see some familiar faces in your virtual audience?
It's been an amazing way of bringing people together actually – I'm sitting in my wee hoose in Broughty Ferry and had been Zooming my mum and family in Glasgow and elsewhere, but it's great to bring the same medium to panto.
With our first schools performance, we had 9 schools – 77 devices, so 77 classes with 1500 pupils all watching the show, which is three times what the theatre holds!
We've had people Zooming in from Germany, Australia, Las Vegas and even the New York Times tuned in. It's an amazing thought that you can be in your beach hut in Florida or an apartment in London and watch the Perth panto!
The show also have a little nod to next year's panto…
…it was a bit of a teaser trailer, and we obviously wanted to drill home that we are coming back next year but we were able to make a little fun of ourselves while we did it!
Looking ahead to next year, what are you most looking forward to about panto 2021?
I think we are all working on the basis that we will have a full auditorium of people because it seems impossible to think of anything else at the moment.
We will be sure to give audiences the biggest and best show that we can – because that's what they all deserve!
You have a great fondness for panto. Can you leave us with a favourite panto memory?
My earliest memory was going to the King's Theatre in Glasgow when I was young. I don't remember much of the detail but I do remember children being dragged up on stage to sing a song and being half delighted it wasn't me and half gutted!
I was a member of Harelquin Youth Theatre in the south side of Glasgow for years and we did a panto every year – though I have no idea how good they were.
I've done a Christmas show or a panto pretty much every year for the last 25 years, so a lot of my memories are of the Tron or the Citizens. I actually remember one year at Kircauldy with a then-unknown laddie called James McAvoy which was a weird and wonderful year.
I think the most important thing about doing pantomime is having fun!
Oh Yes We Are! A Quest For Long Lost Light And Laughter runs until 24th Decembers. Virtual participation tickets can be purchased from Perth Theatre's website, £16 per device.