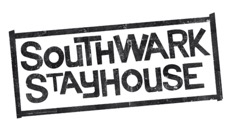 Southwark Stayhouse is a brand new online streaming service where we'll be sharing shows and exclusive video content until our doors are able to open again on Newington Causeway. All shows are free, so you can watch them whenever you want.
The services launches with Wasted, a new rock musical the Playhouse did about the Brontë siblings in 2018 (★★★★ "A fantastically witty, mischievous and camp musical." The Guardian).
It's directed by Adam Lenson with music by Christopher Ash and book and lyrics by Carl Miller. They've also got a riotously fun take on Twelfth Night, set at a music festival (Ilyria, obv) which was staged in 2019, directed by Anna Girvan as part of our Shakespeare for Schools programme.
Even more, there is one from the vaults (literally). Bound by Jesse Briton (★★★★★ "One of the most accomplished pieces of debut playwriting that I've seen in a long time." Evening Standard) which premiered in the old Vault space at London Bridge and went on to be nominated for an Evening Standard Award for Most Promising Playwright is available to watch too.
Alongside these three full-length shows the Southwark Playhouse will be releasing more content fortnightly.
More info at www.southwarkplayhouse.co.uk/streaming/