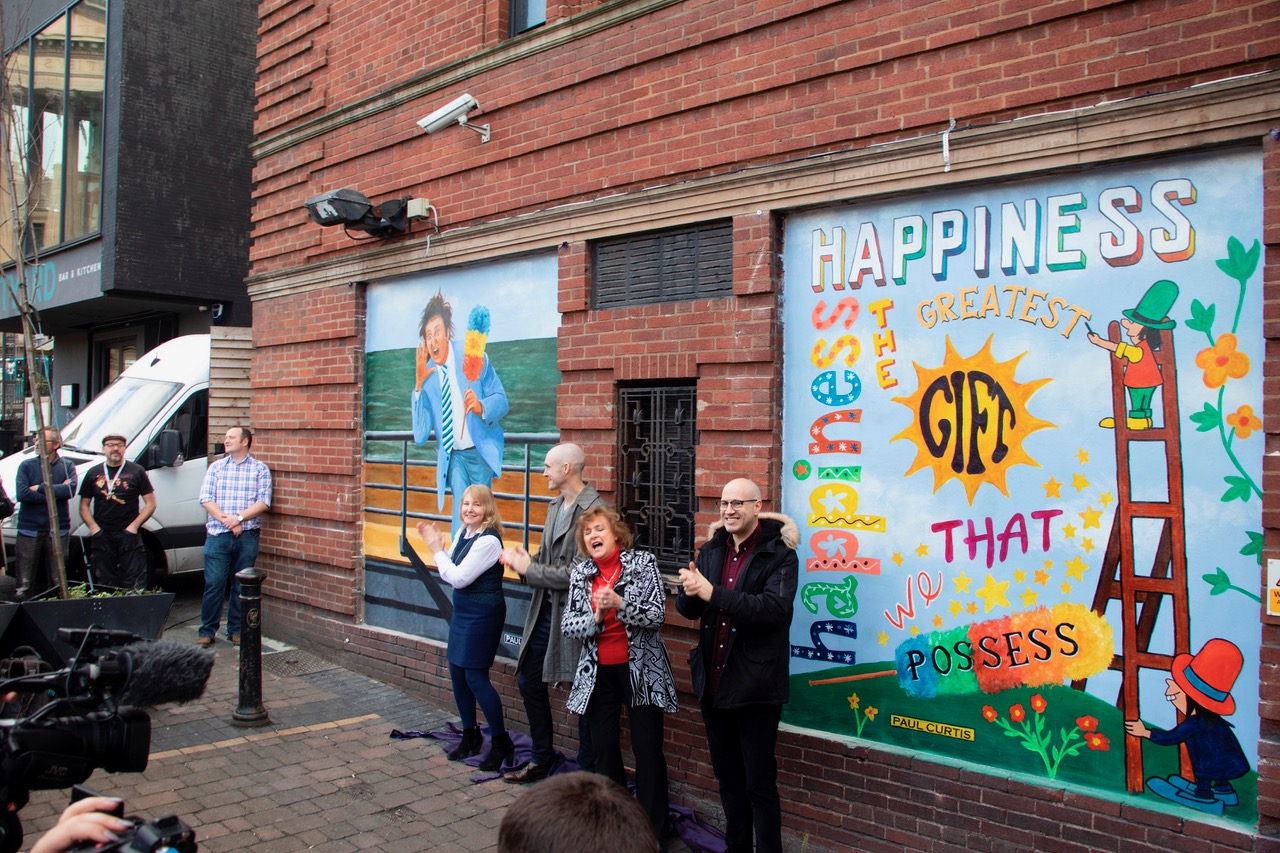 Lady Anne Dodd has unveiled a mural tribute to comedy icon Ken Dodd outside Liverpool's Royal Court Theatre.
The mural was commissioned by The Comedy Trust and was created by the artist Paul Curtis, best known for the Liverbird wings mural in Jamaica Street.
The mural was funded by the Mayor of Liverpool Joe Anderson with a contribution from his City Fund and has been created in a pair of old poster panels outside the theatre.
The Comedy Trust is planning an annual "Doddy Day" which will be held on his birthday each year. The first one will take place on 8 November 2020.
The unveiling featured a short performance by Liverpool's Royal Court Community Choir and jam butties were provided for all.
Lady Dodd was joined by Sam Avery, Artistic Director of The Comedy Trust; the artist Paul Curtis and Gillian Miller, Chief Executive of Liverpool's Royal Court.
Sir Ken played a huge part in keeping the Royal Court open, performing for months at a time to sell-out audiences throughout the 50s, 60s and 70s. In 1974 he broke the World Record for non-stop joke telling at the Royal Court, a staggering 1,500 jokes told in one three-and-a-half-hour session.
In the late 1970s, he was a part of the Royal Court Theatre and Arts Trust who bought the building when it looked likely to go under and even sold the first tickets at the box office for The Ken Dodd Laughter Show, which reopened the theatre in 1978.
Lady Dodd said: "I'm so thrilled to be here. It's absolutely wonderful and a lovely idea that The Comedy Trust are planning a Doddy day on his birthday. I think that today is a Doddy day because we are going to unveil these two wonderful pictures by Paul Curtis. Ken would have loved this."
Sam Avery, Artistic Director of The Comedy Trust said: "Our ethos is to create happier, healthier people and what we wanted to do with this funding we got from the City of Liverpool Mayor's Fund is to celebrate the life, legacy and laughter that Ken Dodd brought to us all."