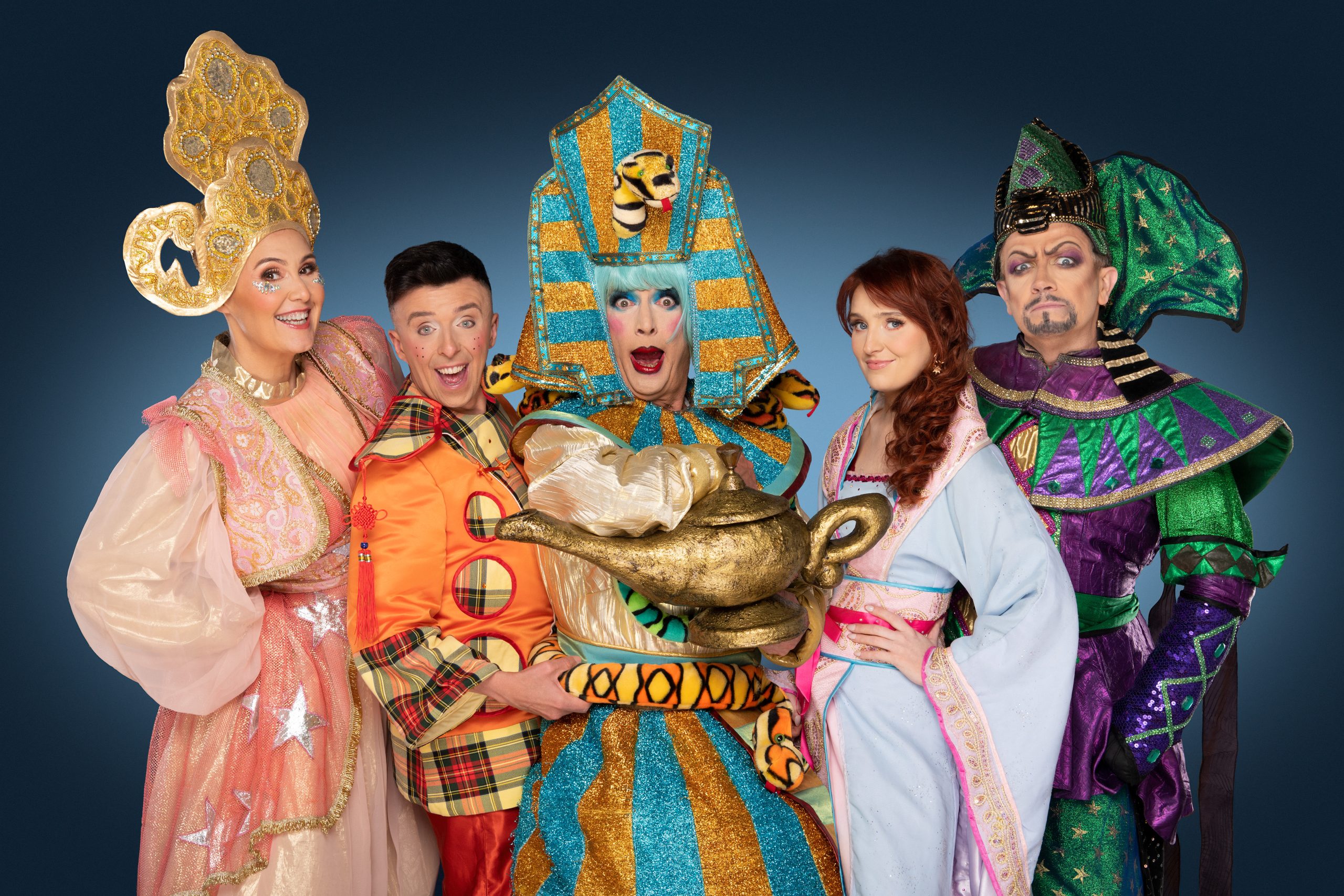 Stars of Inverclyde's annual pantomime will start the countdown to Christmas next week as they switch on Greenock's festive lights.
Still Game favourites Jane McCarry and Mark Cox and panto stalwart Lee Samuel will all take to the stage in Aladdin at Beacon Arts Centre in December.
But the cast members will first join Greenock residents to light up the town at this year's Christmas lights switch-on, which has been organised by Inverclyde Council.
The trio will attend the event in Cathcart Square on Thursday, 24 November.
It will officially trigger the start of the festive season, with Santa also making an appearance.
Aladdin gets underway at the Beacon on Friday, 9 December, with performances held until Hogmanay.
The 2022 panto, which also stars River City's Jimmy Chisholm, is being produced in-house at the Beacon, and promises to be fun-filled and action-packed as audiences are transported on a magic carpet to the fairy-tale kingdom of Greenock.
Tickets for Aladdin start from £14.50, with discounts for groups and family tickets, and are available to book now at www.beaconartscentre.co.uk or by phoning the box office on 01475 723 723.
The Beacon is committed to making the pantomime accessible to all, with British Sign Language and audio-described shows planned for a schools' performance taking place at 10am on Friday, 16 December, and public performance at 5pm on Sunday, 18 December.
Sensory packs will be available to hire for free throughout the run and Beacon Arts Centre has a range of visual resources for people with autism spectrum condition and/or neurodivergence who are visiting the theatre.
Those who require assistance to attend an event at Beacon Arts Centre and who hold an Access Register membership, are invited to bring a Personal Assistant who will be admitted free of charge. Please ask about Personal Assistant tickets when booking. The venue can provide an assistant for those wanting to attend alone.'
 
Jane McCarry, who will play Jeannie the Genie in Aladdin, said:
"It's time to light the lights and sprinkle some magic in the very best place in Scotland.
"There'll be more sparkle than a Strictly Final.
"Cannae wait. See you lot there."
 
Pauline Kane, director of Beacon Arts Centre, said:
"We are thrilled that our panto stars will be in Greenock to officially launch the festive period by switching on the town's Christmas lights.
"Our annual panto, which we're proud to be producing in-house for the first time since 2014, is always the highlight of the year at the Beacon.
"Aladdin promises to be a magical show for children and adults of all ages, featuring the usual festive mix of humour and songs – all with a local twist.
"We're delighted that people will get a sneak peak of the cast and their characters at this year's Christmas lights switch-on."
 
Provost of Inverclyde, Drew McKenzie, said:
"We're delighted to have the stars of the Beacon's panto coming along to add some extra sparkle to our Christmas lights switch-on event in Greenock next week.
"Like our lights switch-on events, the panto and the cast, including Jane McCarry, Mark Cox and Lee Samuel, have become firm favourites in the Inverclyde calendar and I'm sure people of all ages will be thrilled to see them in Cathcart Square to help us officially begin the countdown to Christmas.
"Of course, we will all be upstaged by our extra-special star guest, Santa, who is also taking time out of his busy diary to join us for the festivities along with his reindeer.
"I look forward to seeing lots of families joining us for what will be a fun-filled evening of entertainment in Greenock Town Centre."